LSD
Jump to navigation
Jump to search
LSD

Chemical Nomenclature
Common names
LSD, LSD-25, Lucy, L, Acid, Cid, Tabs, Blotter
Substitutive name
d-Lysergic acid diethylamide
Systematic name
(6aR,9R)-N,N-Diethyl-7-methyl-4,6,6a,7,8,9-hexahydroindolo-[4,3-fg]quinoline-9-carboxamide
Class Membership
Psychoactive class
Psychedelic
Chemical class
Lysergamide
Routes of Administration

WARNING: Always start with lower doses due to differences between individual body weight, tolerance, metabolism, and personal sensitivity. See responsible use section.































DISCLAIMER: PW's dosage information is gathered from users and resources for educational purposes only. It is not a recommendation and should be verified with other sources for accuracy.

Interactions

Cannabis

Stimulants

Tramadol

Tricyclic antidepressants

Ritonavir

Lithium
Lysergic acid diethylamide (also known as Lysergide, LSD-25, LSD, L, Lucy, and Acid) is a classical psychedelic substance of the lysergamide class.[2] It is considered to be the best known, most researched, and culturally influential psychedelic substance. It is thought to produce its psychedelic effects by binding to serotonin receptors in the brain, although the precise mechanism is not fully understood.
The psychoactive effects of LSD were first discovered in 1943 by Albert Hofmann, a Swiss chemist at Sandoz Laboratories.[3] In the 1950s, it was distributed by Sandoz under the name Delysid and intended for use as an experimental drug in psychotherapy and scientific research.[4] During this period, LSD generated widespread interest from clinicians, researchers, and intellectuals and was notoriously the subject of a secret investigation by the U.S. Central Intelligence Agency (CIA) for potential applications in "mind control".[5] Recreational LSD use became a central part of the 1960s youth counterculture movement which eventually led to its prohibition in 1971.[6][7]
Following a 40 year hiatus, research into the therapeutic applications of LSD has experienced a revival.anxiety associated with terminal illness.[4] LSD remains in widespread illicit use for recreational and spiritual purposes. The lifetime prevalence of LSD use among adults is in the range of 6-8%.[4]
It is currently being investigated for the treatment of a number of ailments including alcoholism, addiction, cluster headache, and
Subjective effects include open and closed-eye visuals, time distortion, enhanced introspection, conceptual thinking, euphoria, and ego loss. LSD is commonly reported to be able to evoke mystical-type experiences that can facilitate self-reflection and personal growth.[8] It is considered by some to be the first modern entheogen, a category which is otherwise limited to traditional plant preparations or extracts.[9]
Unlike other highly prohibited substances, LSD has not been proven to be physiologically toxic or addictive.[10][2] However, adverse psychological reactions such as severe anxiety, paranoia, delusions, psychosis and HPPD are always possible, particularly for those predisposed to psychiatric disorders.[11] As a result, it is highly advised to use harm reduction practices if using this substance.
History and culture
The original synthesis of LSD was recorded on November 16, 1938, by the Swiss chemist Albert Hofmann while employed at the Sandoz Laboratories in Basel, Switzerland. It was synthesized as part of a large research program searching for medically useful derivatives of ergot, a fungus that grows on rye and other grains. However, its psychoactive properties were not discovered until five years later when Hofmann claimed to have accidentally ingested an unknown quantity of the chemical before proceeding to ride his bike home.[12]
The first intentional ingestion of LSD was recorded on April 19, 1943.[13] Hofmann ingested 250 micrograms (µg) of LSD, believing it would be a threshold dose based on the doses of other ergot alkaloids. Hofmann found the effects to be much stronger than he anticipated and was impressed by its profound mind-altering effects. In 1947, LSD was introduced by Sandoz to the medical community under the name Delysid as an experimental tool to induce temporary psychotic-like states in normals ("model-psychosis") and later to enhance psychotherapeutic treatments ("psycholytic" or "psychedelic" therapy).[13]
LSD had a major impact in the areas of scientific research and psychiatry upon its release — within 15 years, research on LSD and other hallucinogens generated over 1,000 scientific papers and was prescribed to over 40,000 patients.[14] In the 1950s, the U.S. Central Intelligence Agency created a research program code-named MK-ULTRA that would conduct clandestine research investigating LSD for applications in 'mind control' and chemical warfare. Experiments included administering LSD to CIA employees, military personnel, doctors, prostitutes, mentally ill patients, and members of the general public without their knowledge or consent, which resulted in at least one death.[5]
In 1963, the Sandoz patents for LSD expired. Several prominent intellectuals, including Aldous Huxley, Timothy Leary, and Al Hubbard began to advocate for the consumption of LSD. LSD became a central part of the youth-driven counterculture of the 1960s. Along with other hallucinogens, LSD was advocated by new proponents of consciousness expansion such as Leary, Huxley, Alan Watts and Arthur Koestler[6] who, according to L. R. Veysey, profoundly influenced the thinking of the new generation of youth.[15]
On October 24, 1968, possession of LSD was made illegal in the United States.[16] The last FDA approved study of LSD in patients ended in 1980, while a study in healthy volunteers was made in the late 1980s. Legally approved and regulated psychiatric use of LSD continued in Switzerland until 1993.[17]
Names
The abbreviated form of LSD comes from its early research code name LSD-25 which is an abbreviation for the German spelling "Lysergsäure-diethylamid" followed by a sequential number.[13] LSD has numerous street names including: acid, lucy, L, cid/sid. It is also referred to as blotter or tabs, a reference to their typical form of distribution.
Chemistry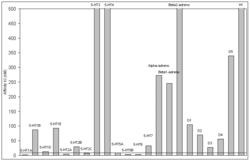 LSD, or d-lysergic acid diethylamide, is a semisynthetic compound that belongs to the lysergamide (or ergoline) family. It is the parent compound of the lysergamides, meaning it serves as the prototype for a series of compounds derived from its structure. These compounds include: 1P-LSD, ALD-52, AL-LAD, ETH-LAD, PRO-LAD, and LSZ.
LSD's chemical structure consists of a bicyclic hexahydroindole ring fused to a bicyclic quinoline group (lysergic acid). At carbon 8 of the quinoline an N,N-diethyl carboxamide is bound. LSD is additionally substituted at carbon 6 with a methyl group.
LSD is a chiral compound with two stereocenters at R5 and R8. LSD, also called (+)-D-LSD, has an absolute configuration of (5R, 8R). The three other stereoisomers of LSD do not have psychoactive properties.[18]
LSD in its pure form occurs as colorless, odorless, prismatic crystals.[19] It is sensitive to oxygen, ultraviolet light, and chlorine (especially in solution).[18] Its potency may last for years if it is stored away from light and moisture at cold temperatures around 0°C or below, but slowly degrades at normal room temperature (25°C).
Pharmacology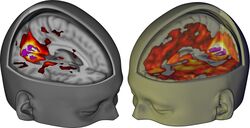 LSD is a partial agonist for the 5-HT1A, 5-HT2A, 5-HT2B, 5-HT2C and 5-HT6 receptors.[21] LSD binds to most serotonin receptor subtypes except for 5-HT3 and 5-HT4. 5-HT5B receptors, which have not been found in humans, also have a high affinity for LSD.[22] The psychedelic effects of LSD are thought to be mediated by agonist action 5-HT2A receptors.[23]
LSD also shows efficacy at all dopamine and all norepinephrine receptors. Most serotonergic psychedelics are not significantly dopaminergic, so LSD is unique in this respect. LSD's agonism of D2 receptors has been shown to contribute to its psychoactive effects.[24][25]
Subjective effects
The subjective effects of LSD can be broken down into several components which progressively intensify proportional to dosage in a nonlinear manner.
Compared to other common psychedelics such as psilocybin mushrooms, LSA and ayahuasca, LSD is reported to be significantly more stimulating and fast-paced in both physical and cognitive dimensions and produces a wide variety of effects that might be attributed to its binding activity at a range of CNS receptors other than serotonin, such as those of dopamine and norepinephrine.
Disclaimer: The effects listed below cite the Subjective Effect Index (SEI), a research literature based on collected anecdotal reports and the personal experiences of PsychonautWiki contributors. As a result, they should be regarded with a healthy degree of skepticism. It is worth noting that these effects will not necessarily occur in a predictable or reliable manner, although higher doses are more liable to induce a full spectrum of effects. Likewise, adverse effects become much more likely with higher doses and may include addiction, serious injury, or death ☠.
Physical effects
Stimulation - In terms of its effects on physical energy levels, LSD is usually regarded as being very energetic and stimulating without being forced. For example, when taken in any environment it will usually encourage physical activities such as running, walking, climbing, or dancing. In comparison, other more commonly used psychedelics such as psilocybin are generally sedating and sedentary.
Spontaneous bodily sensations - The "body high" of LSD can be described as prominent in comparison to its accompanying visual and cognitive effects. It behaves as a euphoric, fast-moving, sharp and location specific or generalized tingling sensation. For some, it manifests spontaneously at different, unpredictable points throughout the trip, but for most, it maintains a steady presence that rises with the onset and hits its limit once the peak has been reached.
Physical euphoria - LSD is capable of producing a unique form of physical euphoria in certain situations. However, this effect does not occur as prominently or reliably as with substances like entactogens or opioids, and can just as easily manifest as physical discomfort without any apparent reason.
Perception of bodily lightness - The stimulation and energy LSD produces can cause the user to feel as if they are moving weightlessly.
Tactile enhancement - Feelings of enhanced tactile sensations are consistently present at moderate levels throughout most LSD trips. If level 8A geometry is reached an intense sensation of seeming to "become aware of and feel every single nerve ending across your entire body all at once" has been described.
Changes in felt bodily form - This effect is often accompanied by a sense of warmth or unity and usually occurs during and up to the peak of the experience or directly afterward. Users can feel as if they are physically part of or conjoined with other objects. This is usually reported as feeling comfortable in its sensations and even peaceful, compared to other substances that induce this effect like salvia.
Pain relief - LSD can greatly reduce or distort the perception of pain. This is likely due to a variety of factors as the hallucinogenic effects mean that pain can be interpreted as a different sensation (i.e. a tickling sensation from a painful stimulus). LSD also possesses potent anti-inflammatory properties that likely contribute to this effect. It should be noted that this effect, while common, is not consistent. Some painful sensations may even be enhanced rather than suppressed, especially when the user is in a negative headspace. Some anecdotal reports from chronic pain patients indicate that this effect can persist even after the drug has worn off.
Temperature regulation suppression[4] - LSD appears to cause the body to lose some of its ability to regulate its temperature. While usually harmless, users should be careful when taking LSD in conditions of extreme hot or cold.
Increased bodily temperature[26] - Potentially dangerous states of overheating have been reported to occur in certain conditions, particularly with higher doses due to the fact that LSD raises the amount of serotonin in the body. Users are advised to monitor their core temperature and be cautious if taking LSD in hot or overcrowded outdoor environments.
Nausea - Mild nausea is occasionally reported on moderate to high doses and either passes after the user vomits or gradually fades by itself as the peak sets in.
Stamina enhancement - LSD is reported to enhance the user's stamina for physical activities such as hiking, running, or dancing. Some people have also reported using small doses to improve athletic performance. However, this effect is generally mild compared to the stamina enhancement of stimulants.
Appetite suppression - LSD can suppress appetite in a manner similar to (although not as strong as) stimulants, especially for fatty foods. It is advised to eat a medium sized meal two to three hours before a trip to ensure one has enough energy to last through the whole trip. During the trip, it is recommended to eat snacks like fruits or nuts or smoothies instead of full meals to avoid nausea and gastric discomfort.
Excessive yawning - LSD can induce fits of excessive yawning, especially during the come up phase.
Seizure[27] - Seizures are very rare but may occur in those who are predisposed to them, particularly while in physically taxing conditions such as being dehydrated, undernourished, overheated, or generally fatigued.
Teeth grinding - This component can be considered to be less intense when compared with that of MDMA.
Vasoconstriction - This effect may lead to users feeling cold, especially in the extremities.
Visual effects
Enhancements

Distortions

The visual geometry encountered on LSD can be described as more similar in appearance to that of 2C-B or 2C-I than psilocin, LSA or DMT. It can be comprehensively described through its variations as primarily intricate in complexity, algorithmic in form, unstructured in organization, brightly lit, colourful in scheme, synthetic in feel, multicoloured in scheme, flat in shading, sharp in edges, large in size, fast in speed, smooth in motion, angular in its corners, non-immersive in-depth and consistent in intensity. At higher dosages, it almost consistently results in states of Level 8A visual geometry over Level 8B.

Hallucinatory states

LSD is capable of producing a full range of low and high-level hallucinatory states in a fashion that is significantly less consistent and reproducible than that of many other commonly used psychedelics, specifically tryptamines like DMT or psilocybin mushrooms. These effects include:

Machinescapes - A rare effect that typically only occurs at very strong to heavy doses, and not as consistently as with certain psychedelics such as DMT, psilocybin mushrooms, and 2C-P, and atypical psychedelics like salvia.
Internal hallucination (autonomous entities; settings, sceneries, and landscapes; perspective hallucinations and scenarios and plots) - Although some users report that LSD is capable of producing hallucinatory states with the same intensity and vividness as psilocybin mushrooms or DMT, it is much rarer and less consistent. While traditional psychedelics such as LSA, ayahuasca and mescaline will induce internal hallucinations near consistently at level 5 geometry and above, some users claim that LSD tends to go straight into Level 8A visual geometry. This lack of consistently induced hallucinatory breakthroughs means that for most, LSD is relatively limited in depth, at doses that do not come with excessive side effects.
Combination effects
Alcohol - Alcohol's central depressant effects can be used to reduce some of the anxiety and tension produced by LSD. However, alcohol can cause dehydration, nausea and physical fatigue which can negatively influence the trip. Users are advised to pace themselves and drink a portion of their usual amount if making the decision to drink on LSD.
Benzodiazepines - Benzodiazepines are highly effective at reducing the intensity of LSD's effects through the general suppression of brain activity.
Dissociatives - LSD enhances the cognitive, visual and general hallucinatory effects of dissociatives. Dissociative-induced holes, spaces, and voids and internal hallucinations become more vivid and intense on LSD. These effects correspond with an increased risk of confusion, delusions, and psychosis.
MDMA - LSD and MDMA are highly synergistic and mutually enhance each other's physical, cognitive, and visual effects. The synergy between these substances is unpredictable, and it is advised to start with markedly lower doses than one would take for each individually. There is some evidence that suggests LSD increases the neurotoxicity of MDMA.[29][30][31]
Antidepressant and antipsychotic drugs may block the effect of LSD by acting on the same receptors and outcompeting their ability to bind. Antidepressants mirtazapine and trazodone act on the 5-HT2A and 5-HT2C receptors where they block serotonin and other molecules from binding[32]. Atypical antipsychotics also act on these receptors in order to decrease hallucinations and cognitive distortion.
Experience reports
There are currently 41 experience reports which describe the effects of this substance in our experience index.
Additional experience reports can be found here:
Forms
LSD is typically distributed in various forms for oral or sublingual administration. It is one of the few psychedelic substances potent enough to fit onto small squares of "blotter paper",[33] and has a history of being counterfeited by similarly potent psychedelics that do not have its favorable safety profile.
LSD can be found in a number of forms, with blotter paper being the most common:
Blotters are typically small squares pulled off sheets of perforated blotting paper that are dipped into an LSD/alcohol solution which are then either swallowed or chewed, or held sublingually. There should not be a bitter metallic taste which numbs the mouth when chewing the blotters as this likely indicates the presence of a 25x-NBOMe compound.
Liquid solutions are often found in vials with a pipette. It is often dropped directly into the mouth or tongue. It may also be dropped onto individual sugar cubes or candy before consumption.[34]
Tablets & Microdots are very small tablets which can be chewed or swallowed.
Powder can, in theory, be administered orally, sublingually, or via insufflation or injection. However, LSD is rarely encountered or taken in this way in practice due to its incredible potency. It is almost always diluted into a liquid solution or 'laid' onto blotter paper to allow for more accurate and consistent dosing.
Gel tabs can be taken orally and are small pieces of gelatin which contain LSD. These are less common now than in the past, but are still occasionally present in some areas of the world.
Research
Alcoholism
Some studies in the 1960s that investigated LSD as a treatment for alcoholism found reduced levels of alcohol misuse in almost 60% of those treated, an effect which lasted six months but disappeared after a year.[28][35][28][36][37] A 2012 meta-analysis of six randomized controlled trials found evidence that a single dose of LSD in conjunction with various alcoholism treatment programs was associated with a decrease in alcohol abuse, lasting for several months.[28]
LSD was studied in the 1960s by Eric Kast as an analgesic for acute and chronic pain caused by cancer or other major trauma.[38] Even at low (i.e. sub-psychedelic) dosages, it was found to be at least as effective as traditional opiates, while being much longer lasting in pain reduction (lasting as long as a week after peak effects had subsided). Kast attributed this effect to a decrease in anxiety; that is to say that patients were not experiencing less pain, but rather were less distressed by the pain they experienced. This purported effect is being tested using a similar psychedelic substance, in an ongoing (as of 2006) study of the effects of psilocin on anxiety in terminal cancer patients.
Cluster headaches
LSD has been used as a treatment for cluster headaches, an uncommon but extremely painful disorder. Although the phenomenon has not been formally investigated, case reports indicate that LSD and psilocin can reduce cluster pain and also interrupt the cluster-headache cycle, preventing future headaches from occurring. Currently existing treatments include various tryptamines among other chemicals, so LSD's efficacy in this regard may not be surprising.
A dose-response study testing the effectiveness of both LSD and psilocin was planned at McLean Hospital, although the current status of this project is unclear. A 2006 study by McLean researchers interviewed 53 cluster headache sufferers who treated themselves with either LSD or psilocin, finding that a majority of users of either drug reported beneficial effects.[39] Unlike the use of LSD or MDMA in psychotherapy, this research involves non-psychological effects and often sub-psychedelic dosages.[40][39]
End-of-life anxiety
From 2008 to 2011 there was ongoing research in Switzerland into using LSD to alleviate anxiety for terminally ill cancer patients coping with their impending deaths. Preliminary results of the study are promising, and no negative effects have been reported.[41][42]
Neuroplasticity
A 2018 study demonstrated neuroplasticity induced by LSD and other psychedelics through TrkB, mTOR, and 5-HT2A signaling.[43]
Reagent Results
Exposing compounds to the reagents gives a colour change which is indicative of the compound under test.
| Marquis | Mecke | Mandelin | Liebermann | Froehde | Robadope | Ehrlich | Hofmann | Simon's |
| --- | --- | --- | --- | --- | --- | --- | --- | --- |
| No reaction | No reaction | No reaction | No reaction | No reaction | No reaction | Pink - Purple - Blueish (slow) | Blue | No reaction |
Toxicity and harm potential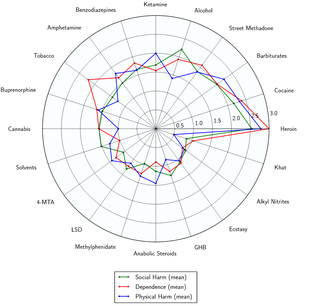 LSD is physiologically well-tolerated and has an extremely low toxicity relative to dose. There is no evidence for long-lasting effects on the brain or other organs and there are no documented deaths attributed to the direct effects of LSD toxicity.[45]
However, while LSD may not be capable of causing direct bodily toxicity or death, its use can still have serious negative consequences. For example, it is capable of impairing the user's judgment and attention, which may promote erratic or dangerous behaviors. In extreme cases, users may experience delusions such as that they are currently inside a dream and therefore physically invincible, prompting them to jump off of a building or run into oncoming traffic.[2]
Additionally, intense negative experiences and psychotic episodes (i.e. "bad trips") can cause lasting psychological trauma if not properly managed or treated afterward. This is particularly a concern in non-supervised settings or when heavy doses are used.
LSD may trigger or exacerbate symptoms (e.g. delusions, mania, psychosis) in those who have or are predisposed to mental illness such as bipolar disorder or schizophrenia.[45] Those with a personal or family history of mental illness (including anxiety and depression) should not use LSD without the advice of a qualified medical professional.
Finally, it should be noted that evidence of LSD's effectiveness as a mental health treatment only applies to the controlled procedures used in clinical studies, in which professional psychotherapists help guide the patient's experience. LSD alone is not considered the treatment because the evidence suggests it must be combined with professional psychotherapy to produce enduring effects. Without the appropriate safeguards, attempts at self-medicating with LSD may actually worsen conditions like anxiety and other mental health issues.[46]
It is strongly recommended to use harm reduction practices if using this substance. This includes practices such as:
Taking the substance under the supervision of a tripsitter for one's first time or while experimenting with a higher dose
Using a reagent testing kit to verifying the substance is genuine LSD and not some other substance
Keeping a supply of benzodiazepines or antipsychotics like Seroquel to abort the trip in the case of overwhelming anxiety or psychosis
Hallucinogen-perception persisting disorder (HPPD)
LSD may trigger hallucinogen persisting perception disorder (HPPD) in some individuals.[47]
Dependence and abuse potential
Like other serotonergic psychedelics, LSD is considered to be non-addictive with a low abuse potential.[45] There are no literature reports of successful attempts to train animals to self-administer LSD — an animal model predictive of abuse liability — indicating that it does not have the necessary pharmacology to either initiate or maintain dependence.[45] Likewise, there is no human clinical evidence that LSD causes addiction. Finally, there is virtually no withdrawal syndrome when chronic use of LSD is stopped.
Tolerance to the effects of LSD forms almost immediately after ingestion. After that, it takes about 7 days for the tolerance to return to baseline (in the absence of further consumption). LSD produces cross-tolerance with all psychedelics, meaning that after the use of LSD all psychedelics will have a reduced effect.
Some anecdotal reports suggest that extremely high doses of LSD can produce a tolerance which can last subsequently longer anywhere from weeks to months. High doses of LSD, along with high tolerances, can produce unusual variations in intensity, duration, and effects.
Overdose
Unlike many psychoactive substances, LSD has no known toxic dose and is essentially impossible to physiologically overdose on. However, higher doses increase the risk of adverse psychological reactions. These reactions include anxiety, paranoia, panic attacks, delusions, psychosis, and in rare cases, seizures.
Medical attention is usually not needed except in the case of severe psychotic episodes or the suspected ingestion of so-called "fake acid", substances that partially mimic LSD's psychedelic effects but carry the risk of physiological toxicity and overdose (e.g. 25x-NBOMe or DOx). Administration of benzodiazepines (e.g. diazepam, alprazolam) can help to relieve the acute negative psychological effects of LSD. Antipsychotics such as quetiapine (Seroquel) may also be used in extreme cases, although they may be less reliable for this purpose.
Mimics ("Fake acid")
LSD's high chemical potency gives it the unique property of being able to infuse it onto paper for distribution. It has a long history of being counterfeited by select other psychedelics that are also potent enough to be laid onto blotter paper (colloquially known as "fake acid" or "bunk acid"). These include the DOx series and, more commonly, the 25x-NBOMe series.
Unlike pure LSD blotters, which are usually only mildly bitter due to any ink the paper contains (pure LSD is almost completely tasteless), mimics are usually described as having an obvious "metallic", "numbing", "chemical-like" or "extremely bitter or sour" taste. As a result, it is commonly advised to immediately spit out any blotters of acid that are found to have a strong, persisting taste.
However, the taste test can only partially ensure user safety. Users should always test their LSD using a reagent test kit. Testing kits are considered important because mimics (such as 25x-NBOMe and DOx) have significantly worse safety profiles than LSD which includes the risk of death.
Dangerous interactions
Although many psychoactive substances are reasonably safe to use on their own, they can suddenly become dangerous or even life-threatening when combined with other substances. The following list includes some known dangerous combinations (although it is not guaranteed to include all of them). Independent research (e.g. Google, DuckDuckGo) should always be conducted to ensure that a combination of two or more substances is safe to consume. Some of the listed interactions have been sourced from TripSit.
Legal status
Internationally, the UN 1971 Convention on Psychotropic Substances requires its parties to prohibit LSD. Hence, it is illegal in all parties to the convention, which includes the United States, Australia, New Zealand, and most of Europe. Medical and scientific research with LSD in humans is permitted under the 1971 UN Convention, although has been reported to be difficult to actually carry out in practice.[7]
See also
External links
Discussion
Literature
Further reading
Books
Hoffman, Albert. LSD — My Problem Child. McGraw-Hill, 1980.
Lee, Martin A., and Bruce Shlain. Acid Dreams: The Complete Social History of LSD: The CIA, the Sixties, and Beyond. Grove Press, 1992.
Articles
References