ETH-LAD
Jump to navigation
Jump to search
ETH-LAD

Chemical Nomenclature
Common names
ETH-LAD
Substitutive name
6-Ethyl-6-nor-lysergic acid diethylamide
Systematic name
(6aR,9R)-N,N,7-Triethyl-4,6,6a,7,8,9-hexahydroindolo-[4,3-fg]quinoline-9-carboxamide
Class Membership
Psychoactive class
Psychedelic
Chemical class
Lysergamide
Routes of Administration

WARNING: Always start with lower doses due to differences between individual body weight, tolerance, metabolism, and personal sensitivity. See responsible use section.































DISCLAIMER: PW's dosage information is gathered from users and resources for educational purposes only. It is not a recommendation and should be verified with other sources for accuracy.

Interactions

Cannabis

Stimulants

Tramadol

Lithium

6-Ethyl-6-nor-lysergic acid diethylamide (also known as N-Ethyl-nor-lysergic acid N,N-diethylamide,[1] N-Ethyl-nor-LSD,[1] and ETH-LAD[1]) is a lesser-known novel psychedelic of the lysergamide class. ETH-LAD is chemically similar to LSD and has a similar mechanism of action, acting primarily by stimulating serotonin receptors in the brain.
The human use of ETH-LAD was first documented by Alexander Shulgin in his 1997 book TiHKAL ("Tryptamines I Have Known and Loved"). It is noted for its "modified visual distortion" relative to LSD.[2] It has been marketed alongside psychedelic lysergamides like 1P-LSD and AL-LAD as a legal, grey-market alternative to LSD, and commercially distributed through online research chemical vendors.
ETH-LAD has been shown to be moderately to significantly more potent than LSD itself in animal studies[3] with an active dose reported at between 40 and 100 micrograms. Anecdotal reports suggest that while it produces similar effects to LSD at low to common doses, it displays a notably divergent effects profile at higher doses, sometimes described as producing "algorithmic" and "warped" visual and auditory distortions, combined with a more "introspective" and "analytical", if not more "neutral" head space.
ETH-LAD has also been reported to more readily produce adverse physical effects such as severe and persisting nausea, temperature dysregulation, and generalized bodily discomfort, particularly at higher doses. This has been speculated to owe itself to an unusually sensitive and unpredictable dose-response curve, as low to common dose experiences are generally described as being very manageable and non-threatening.
Very little data exists about the pharmacological properties, metabolism, and toxicity of ETH-LAD, and it has little history of human usage. Along with its sensitive dose-response and potentially concerning physical side effects, many reports suggest that this substance may be overly difficult to use safely for those who are not experienced with hallucinogens. It is highly advised to use harm reduction practices if using this substance.
Chemistry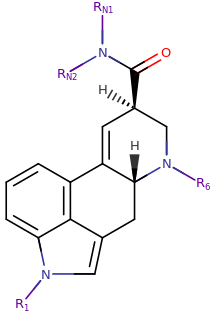 ETH-LAD, or 6-ethyl-6-nor-lysergic acid diethylamide, is a synthetic alkaloid of the lysergamide chemical class. ETH-LAD is a structural analog of lysergic acid with an N,N-diethylamide functional group bound to RN of the chemical structure. This core polycyclic structure is an indole derivative and has both overlapping tryptamine and phenethylamine skeletons embedded within its molecular structure (although it is principally classified as a tryptamine). ETH-LAD's structure contains a bicyclic hexahydroindole fused to a bicyclic quinoline group (nor-lysergic acid).
ETH-LAD does not contain a methyl group substituted at R6 of its nor-lysergic acid skeleton as is the case with LSD; this is represented by the nor- prefix. Instead, ETH-LAD is substituted at R6 with an ethyl group. At carbon 8 of the quinoline, a N,N-diethyl carboxamide is bound in the same configuration of LSD.
ETH-LAD is a chiral compound with two stereocenters at R5 and R8. ETH-LAD, also called (+)-D-ETH-LAD, has an absolute configuration of (5R, 8R).
Pharmacology
As with LSD and other compounds in the lysergamide family, ETH-LAD likely acts as a 5-HT2A partial agonist. The psychedelic effects are believed to come from ETH-LAD's efficacy at the 5-HT2A receptors, although it is likely that like LSD, ETH-LAD also binds to a wide range of different receptors, including multiple different subtypes of serotonin receptors as well as dopamine and adrenoreceptors well.
However, the role of these interactions and how they result in the psychedelic experience remains subject to on-going scientific investigation.
Subjective effects
While the subjective effects of ETH-LAD are reported to largely overlap with those of LSD, it has been noted for the tendency to be more visually and auditorily distortive, introspective, analytical and immersive yet with the capacity to produce pronounced discomforting physical effects like severe and persisting nausea, and temperature dysregulation past the common dose range in a seemingly unpredictable manner.
Due to its high potency and sensitive dose-response, many reports also indicate that the effects of this substance may be overly intense for those who are not already very experienced with psychedelics. Users are advised to approach this substance with caution, use a full array of harm reduction practices, and pay close attention to their physical conditions and environment if using this substance.
Disclaimer: The effects listed below cite the Subjective Effect Index (SEI), an open research literature based on anecdotal user reports and the personal analyses of PsychonautWiki contributors. As a result, they should be viewed with a healthy degree of skepticism.
It is also worth noting that these effects will not necessarily occur in a predictable or reliable manner, although higher doses are more liable to induce the full spectrum of effects. Likewise, adverse effects become increasingly likely with higher doses and may include addiction, severe injury, or death ☠.
Physical effects
Stimulation - In terms of its effects on the physical energy levels of the user, ETH-LAD is regarded as being able to produce a spectrum of either predominantly stimulating or sedating effects, often alternating throughout the experience, sometimes to the point of feeling forced. This is in distinction to other, more commonly used psychedelics such as psilocybin which are more consistent in producing sedation and relaxation.
Spontaneous bodily sensations - The "body high" of ETH-LAD can be characterized as prominent in comparison to its accompanying visual and cognitive effects. Like LSD, it can behave as a fast-moving, sharp and location specific or generalized tingling sensation, although this feeling is not necessarily pleasant and often manifests in a neutral way. For some, it is manifested spontaneously at different, unpredictable points throughout the experience, but for most, it maintains a steady presence that rises with the onset and hits its limit once the peak has been reached, which users tend to report as feeling "neutral", with the emphasis instead placed on alterations in the "head space".

Physical euphoria - This component can occur with the development of spontaneous bodily sensations, but is not as consistent as it is with LSD, and has more of a tendency to spontaneously produce mild to strong neutral if not uncomfortable physical sensations such as those that can be experienced on 2C-E.

Bodily pressures - This can manifest as either negative or pleasant bodily sensations capable of occurring anywhere, but particularly in the central areas of the body including the inner cavities like the chest or the lungs.
Temperature regulation suppression - This effect can occur with the use of any lysergamide or psychedelic, but reports suggest it may be pronounced in ETH-LAD. It is highly advised that users of this compound, especially at heavier doses, monitor their bodily temperature and use techniques like hot showers or cold packs to regulate their core and brain temperature throughout the experience, and to generally always maintain proximity to a climate-controlled environment.
Nausea - In comparison to traditional psychedelics, ETH-LAD has been noted for being able to produce nausea and other "body load" type feelings more readily, potentially at any point during the experience but most prominently during the "come up".
Headaches - This effect typically occurs either spontaneously, or on the comedown of higher doses than is thought the body can handle.
Stamina enhancement - This is generally mild in comparison to traditional stimulants.
Dehydration - Users are advised to pay careful attention to both their water and electrolyte levels when taking ETH-LAD, being cautious to neither under nor over drink.
Difficulty urinating or Frequent urination - While lysergamides are known for their interactions with the kidneys and bladder, ETH-LAD seems to affect it more so than LSD.
Muscle cramps - This effect can occur with the use of any lysergamide or psychedelic, but reports suggest it can be especially pronounced with this substance.
Muscle spasms - This effect can occur with the use of any lysergamide or psychedelic, but reports suggest it can be especially pronounced with this substance.
Teeth grinding - This effect is considerably less intense when compared with that of substances like MDMA and happens more readily than with related substances like LSD, perhaps owing to the greater degree of stimulation it produces.
Seizure - This is an effect whose likelihood is largely extrapolated from the seizures that have been reported from the use of LSD. They are thought to mainly be a risk in those who are genetically predisposed to them, particularly while accompanied by physically taxing conditions such as states of dehydration, fatigue or undernourishment. Although the extent to which this differs from the seizure risk posed by LSD is totally unknown, it is highly advised that users should always be prepared for the worst case scenario.
Visual effects
ETH-LAD is reported to produce a remarkable and unique range of visual effects that are often described as "synthetic", "digital", and highly complex in feeling. It has been noted for its capacity to produce profoundly complex visual hallucinations, including higher level geometry, in a much more reliable and consistent manner than other members of the lysergamide family.

Enhancements

The effects listed below are generally considered more pronounced than they are for LSD at equipotent doses.

Distortions

The effects listed below are generally considered to be more pronounced than they are for LSD at equipotent doses.

The visual geometry encountered on ETH-LAD can be generally described as more similar in appearance to that of DPT or 2C-E than psilocin, LSA or DMT. It can be comprehensively described through its variations as primarily intricate in complexity, algorithmic in form, structured in organization, brightly lit, colourful in scheme, synthetic in feel, multicoloured in scheme, flat in shading, sharp in edges, large in size, fast in speed, smooth in motion, angular in its corners, immersive in-depth and consistent in intensity. At higher dosages, it may almost consistently result in states of Level 8A or Level 8B visual geometry.

Hallucinatory states

ETH-LAD is capable of producing a full range of low and high level hallucinatory states in a fashion that is significantly less consistent and reproducible than that of many other commonly used psychedelics. These effects include:
Experience reports
Anecdotal reports which describe the effects of this compound within our experience index include:
Additional experience reports can be found here:
Toxicity and harm potential
The toxicity and long-term health effects of recreational ETH-LAD use in humans does not seem to have been studied in any scientific context and the exact toxic dose is unknown. This is because ETH-LAD is a research chemical with very little history of human usage.
Anecdotal reports from those who have tried ETH-LAD suggests that there are no negative health effects attributed to simply trying it by itself at low to moderate doses or using it very sparingly (although nothing can be guaranteed). Independent research should always be done to ensure that a combination of two or more substances is safe before consumption.
It is strongly recommended that one use harm reduction practices when using this substance.
Tolerance and addiction potential
ETH-LAD is not habit-forming and the desire to use it can actually decrease with use. As with most psychedelics, it is generally considered to have a built-in, self-regulating aspect to it, although cases of its abuse have been reported.
Tolerance to the effects of ETH-LAD builds almost immediately after ingestion. After that, it takes about 5-7 days for the tolerance to be reduced to half and 14 days to return to baseline (in the absence of further consumption). ETH-LAD presents cross-tolerance with all psychedelics, meaning that after the consumption of ETH-LAD all psychedelics will display a reduced effect.
Overdose
While ETH-LAD has no known toxic dosage, many anecdotal reports suggest this compound to be harsher to handle in overdoses when compared to LSD or other lysergamides. Overdose effects can already start in the heavy dose range and are described as being particularly uncomfortable and bizarre. Some of these effects include anxiety, delusions, confusion, panic attacks, severe nausea and body load, and more rarely seizures. Medical attention is usually only needed if suspected of severe psychotic episodes or "fake acid" (such as 25i-NBOMe or DOB). Administration of benzodiazepines or antipsychotics can help to relieve the negative cognitive effects.
Dangerous interactions
Warning: Many psychoactive substances that are reasonably safe to use on their own can suddenly become dangerous and even life-threatening when combined with certain other substances. The following list provides some known dangerous interactions (although it is not guaranteed to include all of them).
Always conduct independent research (e.g. Google, DuckDuckGo, PubMed) to ensure that a combination of two or more substances is safe to consume. Some of the listed interactions have been sourced from TripSit.
Legal status
ETH-LAD is currently a gray area compound within many parts of the world. This means that it is not known to be specifically illegal within most countries. People may still be charged for its possession under certain circumstances such as under analogue laws (as an analogue of LSD) and with the intent to sell or consume.
Austria: ETH-LAD is technically not illegal but it may fall in the NPSG (Neue-Psychoaktive-Substanzen-Gesetz Österreich) as an analogue of LSD.
Germany: ETH-LAD is controlled under the NpSG (New Psychoactive Substances Act)[5] as of July 18, 2019.[6] Production and import with the aim to place it on the market, administration to another person and trading is punishable. Possession is illegal but not penalized.[7]
Latvia: ETH-LAD is illegal in Latvia. Although ETH-LAD is not officially scheduled, it is controlled as an LSD structural analog due to an amendment made on June 1, 2015.[8]
Poland: ETH-LAD is a NPS class drug in Poland, making it illegal to possess or distribute.[9]
Switzerland: ETH-LAD is a controlled substance specifically named under Verzeichnis E.[10]. It is scheduled as of the of December 1, 2015.[11]
Turkey: ETH-LAD is a classed as drug and is illegal to possess, produce, supply, or import.[12]
United Kingdom: As of January 7, 2015, ETH-LAD is specifically named in the U.K. Misuse of Drugs Act as a Class A controlled substance.[13]
United States: ETH-LAD is unscheduled in the United States. It may be considered an analogue of LSD (which is a Schedule I compound under the Controlled Substances Act). As such, the sale for human consumption or the use for illicit non-medical or scientific research could be prosecuted as crimes under the Federal Analogue Act.
See also
External links
Discussion
Literature
Hoffman, A. J., & Nichols, D. E. (1985). Synthesis and LSD-like discriminative stimulus properties in a series of N (6)-alkyl norlysergic acid N, N-diethylamide derivatives. Journal of Medicinal Chemistry, 28(9), 1252-1255. https://doi.org/10.1021/jm00147a022.
Watts, V. J., Mailman, R. B., Lawler, C. P., Neve, K. A., & Nichols, D. E. (1995). LSD and structural analogs: pharmacological evaluation at D1 dopamine receptors. Psychopharmacology, 118(4), 401-409. https://doi.org/10.1007/BF02245940.
Niwaguchi, T., Nakahara, Y., & Ishii, H. (1976). Studies on lysergic acid diethylamide and related compounds. IV. Syntheses of various amide derivatives of norlysergic acid and related compounds. Yakugaku Zasshi: Journal of the Pharmaceutical Society of Japan, 96(5), 673-678. PMID 987200.
Pfaff, R. C., Huang, X., Marona-Lewicka, D., Oberlender, R., & Nichols, D. E. (1994). Lysergamides Revisited. NIDA Research Monograph, 146, 52-73. PMID: 8742794.
References
↑ 1.0 1.1 1.2 "COMPOUND SUMMARY: N-Ethylnorlysergic acid N,N-diethylamide". National Center for Biotechnology Information. CID 44457783. Retrieved

May 5,

2017.
↑ Shulgin, Alexander; Shulgin, Ann (1997). "#12. ETH-LAD". TiHKAL: The Continuation. United States: Transform Press. ISBN 0-9630096-9-9. OCLC 38503252.
↑ Hoffman, Andrew J.; Nichols, David E. (1985). "Synthesis and LSD-like discriminative stimulus properties in a series of N(6)-alkyl norlysergic acid N,N-diethylamide derivatives". Journal of Medicinal Chemistry. 28 (9): 1252–1255. doi:10.1021/jm00147a022. ISSN 0022-2623.
↑ Talaie, H.; Panahandeh, R.; Fayaznouri, M. R.; Asadi, Z.; Abdollahi, M. (2009). "Dose-independent occurrence of seizure with tramadol". Journal of Medical Toxicology. 5 (2): 63–67. doi:10.1007/BF03161089. ISSN 1556-9039.
↑ "Anlage NpSG" (in German). Bundesministerium der Justiz und für Verbraucherschutz [Federal Ministry of Justice and Consumer Protection]. Retrieved

December 10,

2019.
↑ "Verordnung zur Änderung der Anlage des Neue-psychoaktive-Stoffe-Gesetzes und von Anlagen des Betäubungsmittelgesetzes"

(PDF)

. Bundesgesetzblatt Jahrgang 2019 Teil I Nr. 27 (in German). Bundesanzeiger Verlag. July 17, 2019. pp. 1083–1094. Retrieved

January 1,

2020.
↑ "§ 4 NpSG" (in German). Bundesministerium der Justiz und für Verbraucherschutz [Federal Ministry of Justice and Consumer Protection]. Retrieved

December 10,

2019.
↑ "Noteikumi par Latvijā kontrolējamajām narkotiskajām vielām, psihotropajām vielām un prekursoriem" (in Latvian). VSIA Latvijas Vēstnesis. November 10, 2005. Retrieved

January 1,

2020.
↑ "Rozporządzenie Ministra zdrowia z dnia 21 sierpnia 2019 r. zmieniające rozporządzenie w sprawie wykazu substancji psychotropowych, środków odurzających oraz nowych substancji psychoaktywnych"

(PDF)

(in Polish).
↑ "Verordnung des EDI über die Verzeichnisse der Betäubungsmittel, psychotropen Stoffe, Vorläuferstoffe und Hilfschemikalien" (in German). Bundeskanzlei [Federal Chancellery of Switzerland]. Retrieved

January 1,

2020.
↑ "Verordnung des EDI über die Verzeichnisse der Betäubungsmittel,psychotropen Stoffe, Vorläuferstoffe und Hilfschemikalien: Änderung vom 2. November 2015"

(PDF)

(in German). Bundeskanzlei [Federal Chancellery of Switzerland]. Retrieved

January 1,

2020.
↑ Cumhurbaşkanı Kararı CK Karar Sayısı : 1335

(PDF)

, Resmî Gazete, 2019
↑ Advisory Council on the Misuse of Drugs (June 10, 2014). "Update of the generic definition for tryptamines"

(PDF)

. Government Digital Service. p. 12. Retrieved

January 1,

2020.