Cannabis
Jump to navigation
Jump to search
Cannabis
Chemical Nomenclature
Common names
Cannabis, Marijuana, Weed, Pot, Mary Jane, Grass, Herb, Green, Bud, Tree. More names.
Routes of Administration

WARNING: Always start with lower doses due to differences between individual body weight, tolerance, metabolism, and personal sensitivity. See responsible use section.

























DISCLAIMER: PW's dosage information is gathered from users and resources for educational purposes only. It is not a recommendation and should be verified with other sources for accuracy.

Interactions

2C-T-x

2C-x

5-MeO-xxT

Amphetamines

aMT

Cocaine

DMT

DOx

LSD

Mescaline

Mushrooms

25x-NBOMe

Cannabis (also known as marijuana,[1] weed,[2] pot,[3], grass,[4] hemp,[5] and many others) is a preparation of the cannabis plant that produces psychoactive effects when consumed (via smoking, vaporizing, or ingestion). It is the most used illicit substance in the world.[6][7] The mechanism of action is binding activity at cannabinoid receptors distributed throughout the body.
The principal psychoactive constituent of cannabis is tetrahydrocannabinol (THC), which makes up one of 483 known compounds in the plant,[8] including at least 84 other cannabinoids such as cannabidiol (CBD), cannabinol (CBN), tetrahydrocannabivarin (THCV),[9][10] and cannabigerol (CBG). At least three species are recognized: Cannabis sativa, Cannabis indica, and Cannabis ruderalis.
The earliest recorded uses of cannabis date from the 3rd millennium BC.[11] In modern times, cannabis is used for recreational or medicinal and religious or spiritual purposes.[12] It played a central role in the 1960s youth counterculture movement and is associated with the art and music of this era.
Subjective effects include sedation, appetite enhancement, immersion enhancement, creativity enhancement, increased sense of humor, increased music appreciation, and euphoria. The effects can vary widely depending on dose, strain & form, tolerance, and set and setting. Notably, it can either strongly suppress or enhance anxiety depending on the individual and situation.
Lower doses are associated with relaxing effects similar to a depressant. Higher doses are associated with mild-to-moderate hallucinogenic effects such as visual hallucinations, conceptual thinking and time distortion, as well as a greater risk of anxiety, paranoia, and delusions (generally more prevalent with sativa strains).
Cannabis is considered to have low to moderate abuse potential.delusions or psychosis in predisposed individuals (see this section).
Chronic use is associated with escalating tolerance and psychological dependence in some individuals. It has very low physical toxicity and is essentially impossible to physically overdose on. However, it is capable of exacerbating certain mental health symptoms like
It is highly advised to use harm reduction practices if using this substance.
History and culture
The genus cannabis is indigenous to central Asia and the Indian subcontinent.[13] Tombs in China reveal humans were smoking cannabis 2500 years ago.[14]
Since the early 20th century, cannabis has been subject to legal restrictions with the possession, use, and sale of cannabis preparations containing psychoactive cannabinoids currently illegal in most countries. However, there is a recent growing trend towards decriminalization and legalization, with the sale of cannabis made legal in some US states and Canada.
In 2004, the U.N. estimated that global consumption patterns of cannabis indicated that approximately 4% of the adult world population (162 million people) used cannabis annually and that approximately 0.6% (22.5 million) of people used cannabis daily.[15] According to the United Nations, it is the most used illicit drug in the world.[16][17]
Potency trends
The potency of illicit cannabis plant material has consistently increased over time since 1995 from ~4% in 1995 to ~12% in 2014. The cannabidiol content has decreased on average from ~.28% in 2001 to <.15% in 2014, resulting in a change in the ratio of Δ9-tetrahydrocannabinol to cannabidiol from 14 times in 1995 to ~80 times in 2014.[18][19]
Etymology
The word cannabis is from Greek κάνναβις (kánnabis) (see Latin cannabis),[20] which was originally Scythian or Thracian.[21] It is related to the Persian kanab, the English canvas and possibly the English hemp (Old English hænep).[21]
Common names
Cannabis has numerous common and street names. The most common ones are: marijuana,[22] weed,[23] pot,[24], grass,[25] hemp,[26], ganja.
Chemistry
Cannabis plants contain a number of different specific compounds at various ratios. Cannabis contains more than 460 compounds;[27] at least 80 of these are cannabinoids,[28][29] chemical compounds that interact with cannabinoid receptors in the brain.[30] The most common cannabinoids are listed below:
Phytocannabinoids
Upon heating, cannabinoid acids decarboxylate to give their psychoactive cannabinoid.
Phytocannabinoid ← acid
CBC (cannabichromene) ← CBCA (cannabichromenic acid)
CBCV (cannabichromevarin) ← CBCVA (cannabichromevarinic acid)
CBD (cannabidiol) ← CBDA (cannabidiolic acid)
CBDP (Cannabidiphorol) ← CBDPA (Cannabidiphorolic acid)
CBDV (cannabidivarin) ← CBDVA (cannabidivarinic acid)
CBE (cannabielsoin) ← CBEA (cannabielsoin acid)
CBG (cannabigerol) ← CBGA (cannabigerolic acid)
CBGM (cannabigerol monomethyl ether) ← CBGAM (cannabigerolic acid monomethyl ether)
CBGV (cannabigerovarin) ← CBGVA (cannabigerovarinic acid)
CBL (cannabicyclol) ← CBLA (cannabicyclolic acid)
CBN (cannabinol) ← CBNA (cannabinolic acid)
CBT (cannabicitran) ← CBTA (cannabicitranic acid)
CBV (cannabivarin) ← CBVA (cannabivarinic acid)
delta-8-THC (delta-8-tetrahydrocannabinol) ← delta-8-THCA (delta-8-tetrahydrocannabinolic acid)
THC (tetrahydrocannabinol) ← THCA (tetrahydrocannabinolic acid)
THCC (tetrahydrocannabiorcol) ← THCCA (tetrahydrocannabiorcolic acid)
THCP (tetrahydrocannabiphorol) ← THCPA (tetrahydrocannabiphorolic acid)
THCV (tetrahydrocannabivarin) ← THCVA (tetrahydrocannabivarinic acid)
Pharmacology
The most psychoactive cannabinoid found in the cannabis plant is tetrahydrocannabinol (or delta-9-tetrahydrocannabinol), commonly known as THC.[31] Other cannabinoids include delta-8-tetrahydrocannabinol, cannabidiol (CBD), cannabinol (CBN), cannabicyclol (CBL), cannabichromene (CBC) and cannabigerol (CBG); they have less psychotropic effects than THC, but may play a role in the overall effect of cannabis.[32] The most studied are THC, CBD and CBN.[33]
The entourage effect is a proposed mechanism by which compounds present in cannabis which are largely non-psychoactive by themselves modulate the overall psychoactive effects of the plant (these resulting principally from the action of the main psychoactive component of cannabis, tetrahydrocannabinol (THC)).
THC appears to alter mood and cognition through its agonist actions on the CB1 receptors, which inhibit a secondary messenger system (adenylate cyclase) in a dose dependent manner. Via CB1 activation, THC indirectly increases dopamine release and produces psychotropic effects.
Cannabidiol acts as an allosteric modulator of the mu and delta opioid receptors.[34] THC also potentiates the effects of the glycine receptors.[35] However, the role of these interactions and how they result in the cannabis high remains subject to on-going scientific investigation.
Drugs that activate the CB1 and CB2 receptors are known to upregulate and enhance 5-HT2A receptor activity.[36] The ERK1/ERK2 signaling pathway has been shown to mediate this effect, but the exact biochemical mechanism is unknown. This upregulation and enhancement of the 5-HT2A receptor is why cannabis potentiates the effects of psychedelic drugs and can cause psychedelic effects in very high doses.
Subjective effects
Disclaimer: The effects listed below cite the Subjective Effect Index (SEI), an open research literature based on anecdotal user reports and the personal analyses of PsychonautWiki contributors. As a result, they should be viewed with a healthy degree of skepticism.
It is also worth noting that these effects will not necessarily occur in a predictable or reliable manner, although higher doses are more liable to induce the full spectrum of effects. Likewise, adverse effects become increasingly likely with higher doses and may include addiction, severe injury, or death ☠.
Physical effects
Sedation[37] - Although certain strains of cannabis (e.g. sativas) produce a mild sense of stimulation at low to moderate doses, its effects are primarily sedating and can even be hypnotic. These relaxing properties are suppressed by consciously forcing oneself to engage in physical activities.

In terms of its stimulating effects, these subjective aspects of THC typically last 2-3 hours, whereas the half-life of CBD, which is more relaxing, is 9 hours.[38] Thus, the first dose of cannabis after a period of abstinence will tend to be far more stimulating than subsequent doses, which must compete with the relaxing effects of previous doses.

Because the relaxation both persists much longer and shares many of the same pathways as the stimulation, regular ingestion of THC also leads to increased tolerance to its stimulating effects, but not to its relaxing effects.

Spontaneous bodily sensations - The "body high" of cannabis is extremely variable and depends entirely on the individual strain as well as dose and method of intake. In general, however, it can be described as a relatively pleasurable, sometimes warm, soft, intoxicating and all-encompassing sensation. At high dosages, it can cause some users to feel shaky or nerve-wracked.
Appetite enhancement - The feeling of increased appetite following the use of cannabis has been documented for hundreds of years[39] and is known colloquially as "the munchies". Cannabis has been shown in recent studies to stimulate the release of the hormone ghrelin which is normally released by the stomach when empty as a signal for the brain to search for food.[40]
Appetite suppression - This effect may present itself at the very beginning of the intoxication and is likely due mostly to the cannabinoid THCV.[41]
Gustatory enhancement - Cannabis is regularly known to improve the taste of foods.
Bodily pressures - This can be described a subtle or distinct pressure felt behind one's eye(s).
Changes in felt gravity - At extremely high doses, many users report a feeling of being pulled backwards across vast distances (sometimes at powerful speeds). This sensation progressively increases in intensity and often eventually becomes unbearable if one leans backwards or lies down; however, it disappears altogether once the user sits up or leans forward.
Increased heart rate[37] - Decreased blood pressure can result in an increased heart rate, although this varies depending on the user.
Dizziness - Cannabis has the potential to cause dizziness at very high doses. However, this effect is far more inconsistent than with substances such as alcohol.
Dry mouth[37] - This is known colloquially as "cotton mouth" in popular American and United Kingdom culture. Edible forms of cannabis can make this effect feel much more intense and uncomfortable.
Increased perspiration - This effect is experienced almost exclusively with the convection of solvent extracted hash oil and appears almost immediately upon exhalation. This is likely due to the high THC concentration and a relatively rapid onset that can result in a significant decrease in blood pressure, often causing the user to sweat.
Motor control loss - This substance causes a partial to moderate suppression of motor control which intensifies proportional to dose, but rarely results in a complete inability to walk and perform basic movements.
Muscle spasms - This effect is usually very subtle and is more likely to occur at high doses.
Nausea - At heavy dosages and overdoses, cannabis can be nauseating. This usually passes after the first 30 or 40 minutes of the intoxication and tends to transition later into nausea suppression.
Nausea suppression - Cannabis is effective for suppressing nausea induced by both general illness and substances. It is considered an effective treatment for chemotherapy-induced nausea and vomiting (CINV)[43] and is a reasonable option in those who do not improve following preferential treatment.[44]
Pain relief - This substance has been reported as useful for treating certain headaches and chronic pain, including pain caused by neuropathy and possibly fibromyalgia and rheumatoid arthritis.[45][46]
Perception of bodily lightness or Perception of bodily heaviness - Depending on the specific strain of cannabis, one can find themselves with a body which can feel either physically heavier or lighter than it usually would in a style that is entirely dependent upon dose or tolerance of the individual.
Physical euphoria - This rarely exceeds mild to moderate levels of intensity, and although this effect may be present for many users there are also a number of individuals who report experiencing no euphoria at all. For some, this effect is notably more prominent with edible forms of cannabis.
Red eye - Marijuana induces corneal vasodilation (so called red eye) and a reduction of intraocular pressure (IOP).[47] Naphazoline eye drops relieve red eyes.
Seizure suppression - There are many anecdotal reports of the successful treatment of seizures in epilepsy with the use of low THC/high CBD marijuana.[48][49][50] However, there is not enough scientific evidence to draw conclusions about its safety or efficacy. Studies in animals have found that cannabidiol,[51][52] tetrahydrocannabivarin (THCV),[53] and other cannabinoids have anticonvulsant properties.[54]
Vasodilation - THC decreases blood pressure which dilates the blood vessels and increases blood flow throughout the body. The arteries in the eyeball expand from the decreased blood pressure. These enlarged arteries often produce a bloodshot red eye effect and is the basis for its effectiveness at treating glaucoma.[55] Studies have shown cannabis (smoked or eaten) effectively lowers intraocular pressure by about 25%, as much as standard medications.[56]
Visual effects
Cannabis inconsistently induces visual and hallucinatory states at higher doses. These hallucinations are very mild and ill-defined compared to the effects of hallucinogens like psychedelics, dissociatives, and deliriants.

Colour enhancement - This effect is often faint, but has been known to increase in its likeness and/or appearance among "regular" users of psychedelics.
Acuity suppression - THC is known to decrease intraocular pressure.[57] This can sometimes result in blurry vision for some people.
Brightness alteration - THC has been shown to modulate the activity of cone cells in the eye. This can cause an increased sensitivity to light, causing one's vision to appear brighter than normal.
Tracers - This effect can be seen at high doses and is generally quite mild. It generally does not extend past level 2.
Geometry - Cannabis is capable of inconsistently inducing mild psychedelic geometry at extremely high doses within many users who also regularly use psychedelics. It is capable of inducing these in a visual style which seems to be an averaged out depiction of all the psychedelics one has used within the past. These rarely extend beyond level 4 and are considered to be mild, fine, small and zoomed out (but often well-defined).
Internal hallucination - The internal hallucinations of cannabis are extremely variable in their appearance depending on the dosage, tolerance and the individual's brain chemistry. They are very inconsistent and for some even rare but can be described as being fainter in appearance when compared to traditional psychedelics and do not seem to be as regularly composed of visual geometry.

The most common way in which they manifest themselves is through hypnagogic scenarios. They are most common during high dosages in dark environments and can be comprehensively described through their variations as both lucid and delirious in believability, fixed in style, autonomous in controllability, equal in new experiences and memory replays in content and are primarily geometry-based in style.

Peripheral information misinterpretation - This very inconsistent effect tends to be mild and fleeting in contrast to other more powerful psychoactive substances. This effect rarely occurs on cannabis alone but when it does it is often in high dosages and/or when the individual has a low tolerance. It is more likely to manifest itself in certain environments as opposed to others and is more likely to happen if one has used stronger substances recently, typically within the past 24 to 36 hours.
Cognitive effects
Analysis enhancement - This effect is significantly less prominent and consistent than it is with serotonergic psychedelics and stimulants.
Cognitive euphoria - This effect is generally mild and usually only present during the onset and peak of intoxication
Dream suppression - It is commonly reported that regular cannabis use before sleep results in a complete absence of dreams. A day or two of abstaining from cannabis results in an intensification of dreams for a short period of time.

This claim is supported through studies that demonstrate that measurably reduced eye movement activity and REM states occur when one falls asleep in the THC condition. This state is strongly associated with dreaming. The same study also reported a REM rebound effect; there is more REM activity during the withdrawal from THC.[59]

Decreased libido and Increased libido - Although cannabis is commonly reported to increase sexual desire and heighten its pleasure it has also been reported to decrease one's libido as well.

The decrease in libido typically only occurs during the onset of the intoxication whilst the increase in libido commonly occurs during the offset or after the peak effects. However, these components are inconsistent and it is possible for one of these effects to occur without the other.

Emotion enhancement - The most prominent cognitive component of the cannabis experience is the way in which it enhances the emotions one is already feeling proportional to dose. This can result in euphoria, extreme laughter, and increased immersion within tasks and activities or it can result in anxiety and paranoia depending on the user's current state of mind.
Feelings of impending doom - This occurs in high doses, it consists of extreme anxiety and paranoia. It can be compared to a mild "bad trip" on psychedelics.
Focus suppression and Focus enhancement - This can depend on the user, dose, method or the strain of cannabis used. Higher doses tend to cause focus suppression while lower doses can increase one's focus.
Increased sense of humor

Laughter fits - Cannabis can often cause spurts of laughter for little, to no reason. This is often where the term "giggles" comes from when people are high off cannabis [60].

Memory suppression - Cannabis is known to suppress short-term memory due to inhibition of glutamate neurotransmission in the hippocampus. This effect primarily effects short-term memory, making ego death or long-term memory suppression very unlikely.
Novelty enhancement - Relatively consistent, but not as pronounced as with psychedelics. This effect can become more noticeable and/or consistent if the individual regularly takes psychedelics.
Paranoia - All cannabinoids are capable of inducing paranoia at high doses, with chronic administration, or when administered alongside psychedelics or stimulants.
Psychosis - The prolonged usage of THC may increase one's disposition to psychosis[61], particularly in vulnerable individuals with risk factors for psychotic illnesses (like a past or family history of schizophrenia).[62]
Sleepiness - This effect depends mostly on dose and/or strain of the plant and is most prominent after the peak subsides.
Thought connectivity - Cannabis can often cause many wandering thoughts and ideas at most doses.
Time distortion - Cannabis has been commonly reported to alter one's sense of time. The distortion that occurs is generally mild, and is most commonly reported to be in the form of time expansion.
Auditory effects
Distortions - These are usually only present at extremely high doses.
Multi-sensory effects
Synaesthesia - This is a very rare and typically non-reproducible effect. It is particularly mild when compared to the states capable of being produced by other hallucinogens, particularly serotonergic psychedelics. Increasing the dosage can increase the likelihood for this effect to occur, but otherwise only seems to be possible among those who are already predisposed to synaesthetic states.
Combination effects
Experience reports
Anecdotal reports which describe the effects of this compound within our experience index include:
Additional experience reports can be found here:
Strains and forms
Strains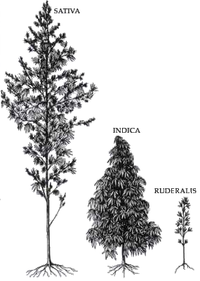 Sativa and indica are the two major types of cannabis plants which can mix together to create hybrid strains. Each strain has its own range of effects on the body and mind, resulting in a wide range of medicinal benefits.
Indica plants typically grow short and wide compared to sativa plants which grow tall and thin. Indica plants are better suited for indoor growing because of their short growth and sativa plants are better suited for outdoor growing because some strains can reach over 25 ft. in height.
The high produced from smoking indica bud is a strong physical "body high" that will make one sleepy or sedated and provides a deep relaxation feeling compared to a sativa high, which is known to be more energetic and uplifting.
Marijuana strains range from pure sativas to pure indicas with hybrid strains consisting of both indica and sativa (for example, 30% indica – 70% sativa, 50% – 50% combinations, or 80% indica – 20% sativa). Because sativa and indica buds have very different medicinal benefits and effects, certain strains can be targeted to better treat specific illnesses.
Forms
Kief is a powder which can be sifted from the leaves and flowers of cannabis plants and either consumed in powder form or compressed to produce cakes of hashish.[65]

Hashish (also spelled hasheesh, hashisha, or simply hash) is a concentrated resin cake or ball produced from pressed kief. Hashish was the primary form of cannabis used in Europe in 2008. Herbal cannabis is more widely used in Northern America. Purities of confiscated hashish in Europe (2011) range between 4-15%. Between 2000 and 2005 the percentage of hashish in cannabis end product seizures was at 18%.[66]
Common usage
Consumption methods
Cannabis is consumed in many different ways:[70]
Smoking typically involves inhaling vaporized cannabinoids ("smoke") from small pipes, bongs (portable versions of hookahs with water chamber), paper-wrapped joints, tobacco-leaf-wrapped blunts, and other items.[71]
Vaporizers heat herbal cannabis to 165–190 °C (329–374 °F), causing the active ingredients to evaporate into a vapor without burning the plant material (the boiling point of THC is 157 °C (315 °F) at 760 mmHg pressure).[72]
Cannabis tea contains relatively small concentrations of THC because THC is an oil (lipophilic) and is only slightly water-soluble (with a solubility of 2.8 mg per liter).[73] Cannabis tea is made by first adding a saturated fat to hot water (e.g., cream or any milk except skim) with a small amount of cannabis.[74]
Edibles are cannabis added as an ingredient to one of a variety of foods.
Sublingual/buccal consumption typically involves the absorption of cannabinoids through the membranes inside the mouth (usually through a candy or tincture).
Tincture
Topical consumption typically involves the use of either a cream or lip balm containing cannabinoids absorbed through the skin.
Preparation methods
Preparation methods for this compound within our tutorial index include:
Medical use
Cannabis is an emerging treatment option for those suffering from many serious diseases, including cancer. Due to its pain relieving, nausea suppressing effects, cannabis can be useful for those undergoing radiation therapy and chemotherapy.[75] Oral doses of cannabis are more effective in reducing nausea and vomiting[76].
In addition to the anti-nausea effects, the appetite enhancement effects of cannabis can combine with the antiemetic effects and make it more likely that the patient will gain or maintain weight through cancer treatment.[77]
Toxicity and harm potential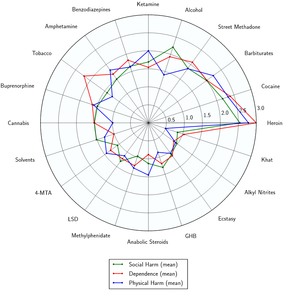 Despite its reputation for being a benign substance, it is important to be aware that cannabis use is associated with distinct risks. Acute adverse effects include anxiety, hyperemesis syndrome, impaired coordination and judgment, suicidal ideations/tendencies, and psychotic symptoms.
It is strongly advised to use harm reduction practices if using this substance.
Cannabinoid hyperemesis syndrome (CHS) is recurrent nausea, vomiting, and stomach cramp that sometimes occurs due to prolonged, high-dose cannabis use.[79][80]
Cannabis arteritis (CA) is a very rare peripheral vascular disease similar to Buerger's disease.[81]
Suicidality
A NIH study found that suicide risk is higher with marijuana users than non-users. [82]
On the other hand, the largest study as of 2018 in association with cannabis use and the risk of suicide, there was no found evidence between the two. This study shows that it is unlikely a risk factor for suicide, either directly or as a consequence of use. [83]
Not only that, but another study studied the association between cannabis and suicidality also has correlation.[84]
The main takeaway from these studies and more is that while suicide risk may be higher with people who use cannabis, cannabis is unlikely the cause or an additional significant factor.
Psychosis risk
The prolonged usage of THC and other cannabinoids may increase one's disposition to mental illness and psychosis,[85] particularly in vulnerable individuals with risk factors for psychotic illnesses (like a past or family history of schizophrenia).[86][87][88]
Individuals with a personal or family history of mental illness, particularly psychotic disorders like schizophrenia, should not use cannabis without the advice of a qualified mental health practitioner.
Lethal dosage
No fatal overdoses associated with cannabis use have been reported as of 2010.[89] A review published in the British Journal of Psychiatry in February 2001 said that "no deaths directly due to acute cannabis use have ever been reported."[90]
THC, the principal psychoactive constituent of the cannabis plant, has extremely low physiological toxicity and the amount that can enter the body through the consumption of cannabis plants poses no threat of death. In lab animal tests, scientists have had much difficulty administering a dose of THC that is high enough to be lethal. The dose of THC needed to kill 50% of tested rodents is very high,[91] 2.594 mol/kg, about 815.7 grams of THC per kilogram of body weight,[92] and human deaths from overdose are unheard of.[93]
At present, it is estimated that the LD50 of cannabis is around 1:20,000 or 1:40,000. This means that, in order to induce death, a cannabis smoker would have to consume 20,000 to 40,000 times as much cannabis as is contained in one cannabis cigarette. A user would theoretically have to smoke nearly 1,500 pounds of cannabis within about 15 minutes to induce a lethal response.
It is worth noting that the rare condition Cannabinoid Hyperemesis Syndrome (CHS) can cause ongoing nausea, vomiting and severe dehydration which can lead to renal failure[94] and in the worst case this can lead to death.[95]
Dependence and abuse potential
Cannabis is moderately habit-forming. Research has shown the overall dependence potential for cannabis to be less than that for caffeine, tobacco, alcohol, cocaine or heroin, but higher than that for psilocybin, mescaline, or LSD.[96]
Dependence on cannabis is more common amongst heavy users. Cannabis use can lead to increased tolerance[97][98] and withdrawal symptoms upon stopping usage.[99][100][101] Prolonged cannabis usage requires the user to consume higher doses of the substance to achieve a common desirable effect, and reinforce the body's metabolic systems for synthesizing and eliminating it more efficiently.[102]
Tolerance to many of the effects of cannabis develops with prolonged and repeated use. This results in users having to administer increasingly large doses to achieve the same effects. After that, it takes about 1 - 2 weeks for the tolerance to be reduced to half and 2 - 3 weeks to be back at baseline (in the absence of further consumption). THC has been detected in heavy cannabis users after 77 days of drug abstinence.[103]
Cannabis exhibits cross-tolerance with all cannabinoids, meaning that all cannabinoids will have a reduced effect for a period of time upon using cannabis. The mechanisms that create this tolerance to THC are thought to involve changes in cannabinoid receptor function.
One study found that about 1 in 10 users of cannabis may develop dependence characterized by the occurrence of a withdrawal syndrome after abstinence. This withdrawal syndrome was found to peak 2-3 days after quitting and is mostly complete by 1 week; however, sleep disturbances and vivid dreams may persist for 2-3 weeks.[104]
Dangerous interactions
Warning: Many psychoactive substances that are reasonably safe to use on their own can suddenly become dangerous and even life-threatening when combined with certain other substances. The following list provides some known dangerous interactions (although it is not guaranteed to include all of them).
Always conduct independent research (e.g. Google, DuckDuckGo, PubMed) to ensure that a combination of two or more substances is safe to consume. Some of the listed interactions have been sourced from TripSit.
Legal status
United Nations
The legality of cannabis for medical and recreational use varies by country, in terms of its possession, distribution, and cultivation, and (in regards to medical) how it can be consumed and what medical conditions it can be used for. These policies in most countries are regulated by the United Nations Single Convention on Narcotic Drugs that was ratified in 1961, along with the 1971 Convention on Psychotropic Substances and the 1988 Convention against Illicit Traffic in Narcotic Drugs and Psychotropic Substances.[105][106]
Rescheduling proposals
The World Health Organization (WHO) is calling for whole-plant marijuana, as well as cannabis resin, to be removed from Schedule IV—the most restrictive category of a 1961 drug convention signed by countries from around the world.[107]
Sweden: Tetrahydrocannabinol is a controlled substance under the 1971 Convention on Psychotropic Substances[106]. However, it has been approved for medical use by the Swedish Medical Products Agency[108], in the form of an oral solution sold under the brand name Sativex.[109][110]
See also
External links
Further reading
References