Naturally occurring sources
Jump to navigation
Jump to search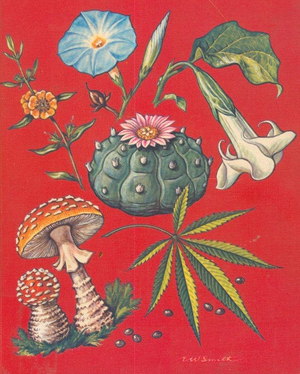 Naturally occurring sources refers to psychoactive chemicals or their precursors that already exist in nature. This is in contrast to synthetic psychoactive compounds which are artificially produced or designed in laboratories, or psychoactive substances, and precursor chemicals, produced by GMOs. However, these natural chemicals can often be reproduced synthetically as well, though notably they appear in nature or through human cultivation.
Proposed origins
There are a variety of proposed reasons for the appearance of psychoactive substances in organisms including the following examples:
Selective breeding
Selective breeding is a method used by cultivators to add or remove traits from successive generations of organisms by breeding together those that have the preferred properties in hopes of developing a desirable genetic strain. This may have resulted in both the potency and appearance of psychoactive substance(s) which the cultivators wished to produce.[1]
Defense mechanism
Another proposed reason for the presence of psychoactive substances in nature is their use as a defence mechanism. Through natural selection an organism may develop a poison or toxin useful for fending off predators,[2] as can be seen in Latrodectus Spiders who's psychoactive Latrotoxin has no reward value, and instead poses a threat to others.
Reward symbiosis
It is also possible that co-evolution encouraged psychoactive organisms to appear as a means of propagation. That is; in the same way sweet fruits were naturally selected by animals spreading their contained seeds, so were psychoactive flora that posed some benefit to the animals.[3]
Genetic similarity
An incidental cause of the prevalence of these substances is the shared genetic origins of the organisms. Given that they share a great deal of genetic code it is reasonable to assume that this may have been a factor in producing chemicals similar enough to neurotransmitters so as to activate receptor sites. For example many psychoactive chemicals are biosynthesized from amino acids such as tryptophan, while in humans this amino acid is used to make serotonin. The result is that some of the tryptamines in nature are serotonergic agonists when consumed.
Historical significance
The use of psychoactive substances is deeply rooted in human culture and dates back to pre-history. Early societies often incorporated these organisms into their traditions in medicine, spirituality, or recreation, such as the use of soma in the origins of Hinduism, and many of these uses continue into the modern day. Some common examples of this are the use of wine containing Ethanol in Christian communion, and Ayahuasca among indigenous peoples of the Amazon.
Many of these organisms have been instrumental to the progress of various scientific fields, such as Biology, Medicine, Psychonautics, and continue to reveal their importance with their involvement in major discoveries, such as the discovery of cannabinoid receptors[4] preceding our knowledge of endocannabinoids.[5]
Precluding endogenous chemicals, many of these organisms served as humanities only means of altering neurochemistry until the advent of synthetic psychoactives during the modern age. They have been at the forefront of major historical developments, such as pharmacotherapy, the funding of organized crime, the psychedelic era of the 60's, and the current "War on Drugs".
Examples
Below is an index of articles regarding natural sources of psychoactive substances. Other than inanimate sources they are categorized by kingdom of organism with sections for each applicable class of psychoactivity, sub-sections are given to active constituents, and finally the taxonomy and common name. Names may appear more than once if they contain a variety of substances, or their active substance has a variety of effects. Please note the quantity of substance obtained through an organism is not always safe and/or effective at common levels of consumption, but they are here included for sake of completeness. In addition some of the organisms are toxic or dangerous and thus proper research and preparation is recommended before attempting to personally investigate their activity.
Botanical sources

Phenethylamines
Tryptamines

5-HO-DMT (bufotenin)

Anadenanthera colubrina (vilca)
Diplopterys cabrerana (Chaliponga)

5-MeO-DMT
5-MeO-NMT
DMT

Desmodium gangeticum
Diplopterys cabrerana (Chaliponga)
Phyllodium pulchellum
Vachellia seyal (Acacia seyal)[32]
Virola elongata
Virola sebifera

Iboga alkaloids

Tabernaemontana africana
Tabernaemontana crassa
Tabernaemontana pandacaqui
Tabernanthe orientalis
Tabernanthe pubescens
Trachelospermum jasminoides

κ-opioid receptor agonists

Akuammicine

Picralima nitida (Akuamma) [61]

Akuammidine

Picralima nitida (Akuamma)[61]

Iboga alkaloids

Tabernaemontana
Tabernaemontana pandacaqui

Nepetalactone
Pawhuskin A, B, C

Dalea purpurea (Purple prairie clover)

Salvinorins
Matrine and oxymatrine

NMDA receptor antagonists

Chloroform
Hodgkinsine

Calycodendron milnei
Psychotria colorata
Psychotria lyciiflora

Iboga alkaloids

Apocynaceae

Tabernaemontana genus

Tabernaemontana pandacaqui

Tabernanthe genus
Voacanga genus

Psychotridine

Psychotria beccarioides
Psychotria colorata
Psychotria forsteriana
Psychotria lyciiflora
Psychotria oleoides

Rhynchophylline

Uncaria rhynchophylla (Fish hook vine)
Uncaria tomentosa (Cat's claw)

Bisabolol terpenes
Capsaicinoids
Flavinoids
Grayanotoxin

Rhododendron ponticum nectar (mad honey) [67]

Ledol

Labrador tea

Rhododendron tomentosum
Rhododendron groenlandicum
Rhododendron neoglandulosum

Platyphylline[68]
Tropane alkaloids

Atropa genus
Brugmansia genus

Brugmansia arborea
Brugmansia aurea
Brugmansia insignis
Brugmansia sanguinea
Brugmansia suaveolens
Brugmansia versicolor
Brugmansia vulcanicola

Datura (Angel's Trumpet) / Datura (Drug)

Datura ceratocaula
Datura discolor (Desert Datura)
Datura ferox
Datura innoxia (Toloache)
Datura leichhardtii (Native Thornapple)
Datura metel (White Devil's Trumpet)
Datura stramonium
Datura quercifolia
Datura wrightii (Sacred Datura)

Duboisia (corkwood tree)
Erythroxylaceae
Hyoscyamus genus

Hyoscyamus albus
Hyoscyamus aureus
Hyoscyamus boveanus
Hyoscyamus desertorum
Hyoscyamus muticus
Hyoscyamus pusillus
Hyoscyamus reticulatus

Mandragora genus
Latua

Mycological sources

Zoological sources

These animals produce venom used for self-defense against predators. Invertebrates like insects deliver stings, or bites, whilst vertebrates like frogs and toads are "milked" for secretion that are either smoked (eg. Colorado River Toad) or burned into the skin (eg. kambo).

5-Br-DMT

Smenospongia aurea
Smenospongia echina
Verongula rigida

5-HO-DMT (bufotenin)

Homo sapiens (humans)[107]

Autistic people
Schizophrenic people

Tree frogs

Hyla Spp.
Litoria Spp.
Rana Spp.

Bufotoxins

Poneratoxin

Paraponera clavata (Bullet ant)

Dendrotoxin 7[109]

Genus Dendroaspis (Mamba snakes)

NMDA receptor antagonists

Agatoxin

Agelenopsis aperta (Funnel web spider)

Argiotoxin

Araneus gemma (Cat-faced Spider)
Argiope lobata

Joro toxin

Nephila clavata (Joro spider)

Anabaseine
Epibatidine
Latrotoxin (acetylcholine release)

Latrodectus (black or brown widow spiders)

Latrotoxin (norepinephrine release)

Latrodectus (black or brown widow spiders)

Phenethylamine
Hydroxychavicol

Human (After metabilization of safrole, hydroxychavicol causes stimulation in humans.)

Atypical

Apis (Honey bee)

Honey containing psychoactive(s)

Hallucinogenic fish

Homo sapiens (Humans)

Synthetic psychoactives
Urine containing psychoactive(s)

External links

By species
By constitution
By routes of administration

References