1B-LSD
Jump to navigation
Jump to search
1B-LSD

Chemical Nomenclature
Common names
1B-LSD
Substitutive name
1-Butyryl-d-lysergic acid diethylamide
Class Membership
Psychoactive class
Psychedelic
Chemical class
Lysergamide
Routes of Administration

WARNING: Always start with lower doses due to differences between individual body weight, tolerance, metabolism, and personal sensitivity. See responsible use section.































DISCLAIMER: PW's dosage information is gathered from users and resources for educational purposes only. It is not a recommendation and should be verified with other sources for accuracy.

Interactions

Cannabis

Stimulants

Tramadol

Lithium
1-Butanoyl-d-lysergic acid diethylamide (also known as 1B-LSD) is a novel psychedelic substance of the lysergamide class. 1B-LSD is closely related to LSD and 1P-LSD and is reported to produce near-identical effects. 1B-LSD has been found to be around 14% as potent as LSD and expresses itself at the same 5-HT2A receptor.[1]
The original synthesis date of 1B-LSD is not known. Unlike most research chemicals, 1B-LSD has no prior record in the scientific literature. The first reports of 1B-LSD use surfaced in 2018 following its appearance on the online research chemical market.
Subjective effects include visual geometry, hallucinatory states, time distortion, enhanced introspection, conceptual thinking, increased music appreciation, euphoria, and ego loss. User reports indicate that the subjective effects of 1B-LSD are extremely similar to those of 1P-LSD. 1B-LSD acts as a prodrug for LSD.[2] The similarities in chemical structure between 1B-LSD and LSD predicts a near-identical effect profile, likely differing mainly in its rate of absorption and duration.
Very little data exists about the pharmacological properties, metabolism, and toxicity of 1B-LSD. It is presumed to have a similar toxicity and risk profile as LSD, although no evidence currently exists to support this. It is highly advised to use harm reduction practices if using this substance.
History and culture
1B-LSD first appeared on the online research chemical market in August 2016.[3] It is unknown who first synthesized 1B-LSD, as the substance does not appear in any academic literature pre-dating its arrival on the research chemical market.[4] Interestingly, the future usage of 1-akylated lysergamide derivatives as a means to bypass controlled substance laws banning LSD as a precursor was foreseen in a DEA report from 1988:
"
...a reduction in hallucinogenic activity may become acceptable to the U.S. clandestine chemist when he notes that lysergic acid amide is listed as a Schedule III substance in the CFR; therefore, structurally similar substances of this compound are exempted from the CsA amendment. A lucid argument can then be made that lysergic acid N,N-dimethylamide is derived from lysergic acid amide rather than LSD. Carrying this theme to the next logical step one would then assume that the 1-alkyl and 1-acyl derivatives of the N,N-dimethyl isomer would also not be controlled by the CsA amendment.
"
— Donald A. Cooper, Future Synthetic Drugs of Abuse, 1988.[5]
Chemistry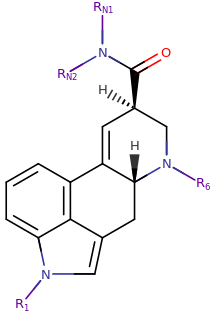 1B-LSD is a molecule of the lysergamide family. It is similar to LSD and is named for the butyryl group bound to the nitrogen of the polycyclic indole group of LSD.
The tetracyclic ergoline is characteristic of the chemical structure of ergot alkaloids. In contrast to LSD, 1B-LSD has an additional N1-butyryl group. Chemical modifications in the N1 position are among the most frequently performed changes in the ergoline system, as the Indole nitrogen is easily accessible for alkylations, acylations, Mannich reactions and Michael additions.
Pharmacology
Based on its structural similarity to LSD, 1B-LSD likely acts as a partial agonist at the 5-HT2A receptor. The psychedelic effects are thought to primarily come from its efficacy at the 5-HT2A receptors distributed throughout the brain.[1] 1B-LSD also likely displays binding activity at a wide range of monoamine receptors, such as those for dopamine and norepinephrine. However, there is currently no data to support these claims.
It has been shown that 1B-LSD (as well as the acyl homologs 1P-LSD and ALD-52) are deacylated in the body via CYP1A2 and CYP3A4 into LSD by elimination of the butyric acid, as shown in studies with both human blood serum and in rats.[2][6]
Subjective effects
Anecdotal reports from many users suggest that the subjective effects of 1B-LSD are so similar to that of LSD so as to be virtually indistinguishable from one another. In comparison to other psychedelics such as psilocybin, LSA and ayahuasca, 1B-LSD is significantly more stimulating and fast-paced regarding the specific style of its physical and cognitive effects.
Disclaimer: The effects listed below cite the Subjective Effect Index (SEI), an open research literature based on anecdotal user reports and the personal analyses of PsychonautWiki contributors. As a result, they should be viewed with a healthy degree of skepticism.
It is also worth noting that these effects will not necessarily occur in a predictable or reliable manner, although higher doses are more liable to induce the full spectrum of effects. Likewise, adverse effects become increasingly likely with higher doses and may include addiction, severe injury, or death ☠.
Physical effects
Stimulation - 1B-LSD is usually regarded as very energetic and stimulating without being forced. For example, when taken in any environment it will usually encourage physical activities such as running, walking, climbing or dancing. In comparison, other more commonly used psychedelics such as psilocybin which are generally sedating and relaxed.
Spontaneous bodily sensations - The "body high" of 1B-LSD can be characterized as proportionally very intense in comparison to its accompanying visual and cognitive effects. It behaves as a euphoric, fast-moving, sharp and location-specific tingling sensation. For some, it is manifested spontaneously at different, unpredictable points throughout the trip, but for most, it maintains a steady presence that rises with the onset and hits its limit once the peak has been reached. At moderate to high doses of 1B-LSD, this sensation often approaches its highest level and can become so overwhelming that people may find themselves debilitated with pleasurable sensations.

Physical euphoria - It should be noted that this effect is not as reliably induceable as it is with substances like stimulants or entactogens, and can just as easily manifest as extreme physical discomfort without any apparent reason.

Tactile enhancement - Feelings of enhanced tactile sensations are consistently present at moderate levels throughout most 1B-LSD experiences. If level 8A geometry is reached, an intense sensation of suddenly becoming aware of and being able to feel every single nerve ending across a person's entire body all at once is consistently present.
Stamina enhancement - This is generally mild in comparison to the stamina enhancement produced by traditional stimulants.
Excessive yawning - This effect is significantly less pronounced than it is with psilocybin and its related compounds, the four-position substituted tryptamines.
Nausea - Mild nausea is occasionally reported when consumed in moderate to high dosages and either passes instantly soon after the user has vomited or gradually fades by itself as the peak sets in.
Vasoconstriction - Vasoconstriction may lead to users feeling cold, especially in the extremities.
Seizure - The likelihood is largely extrapolated from the seizures that have been reported from the use of LSD. It is thought to mainly be a risk in those who are genetically predisposed to them, particularly while accompanied by physically taxing conditions such as states of dehydration, fatigue, undernourishment or overheating.
Visual effects
Enhancements

Colour enhancement - In comparison to other psychedelics, this effect is often reported to be brighter but not as varied in its character.

Distortions

The visual geometry of 1B-LSD can be described as more similar in appearance to that of 2C-B or 2C-I than psilocin, LSA or DMT. It can be comprehensively described through its variations as primarily intricate in complexity, algorithmic in form, unstructured in organization, brightly lit, colourful in scheme, synthetic in feel, multicoloured in scheme, flat in shading, sharp in edges, large in size, fast in speed, smooth in motion, angular in its corners, non-immersive in-depth and consistent in intensity.

In the case of higher-level geometry, this substance is level 8A dominant but is also capable of inducing 8B Geometry under the right circumstances.

Hallucinatory states

1B-LSD is capable of producing a full range of hallucinatory states in a fashion that is significantly less consistent and reproducible than that of many other commonly used psychedelics, specifically tryptamines like DMT or psilocybin mushrooms. These effects include:

Machinescapes - This component is a rare effect that typically only occurs at very strong to heavy doses, and not as consistently as with notably visual psychedelics like DMT, ETH-LAD, and 2C-P, and atypical psychedelics like salvia.
Internal hallucination (autonomous entities; settings, sceneries, and landscapes; perspective hallucinations and scenarios and plots) - Although 1B-LSD is technically capable of producing hallucinatory states in a fashion that is on par with psilocin or DMT in its vividness and intensity, these effects are incredibly rare and inconsistent in comparison. While traditional psychedelics such as LSA, ayahuasca and mescaline will induce internal hallucinations near consistently at level 5 geometry and above, 1B-LSD will for most simply go straight into Level 8A visual geometry. This lack of consistently induced hallucinatory breakthroughs means that for most, LSD is limited in depth. When they do occur, they can be described in terms of their variations as lucid in believability, interactive in style, new experiences in content, autonomous in controllability and geometry-based in appearance.
Combination effects
Alcohol - Alcohol's central depressant effects can be used to reduce some of the anxiety and tension produced by 1B-LSD. However, alcohol can cause dehydration, nausea and physical fatigue which can negatively impact the direction of the trip. Users are advised to pace themselves and drink a portion of their usual amount.
Benzodiazepines - Benzodiazepines are highly effective at reducing the intensity of 1B-LSD's effects through the general suppression of brain activity.
Cannabis - Cannabis strongly intensifies the sensory and cognitive effects of 1B-LSD. Extreme caution is advised when using this combination as it can significantly increase the chances of a negative psychological reaction like anxiety, confusion and psychosis. Users are advised to start off with only a fraction of their usual cannabis dose and take long breaks between hits to avoid over intake.
Dissociatives - 1B-LSD enhances the cognitive, visual and general hallucinatory effects of dissociatives. Dissociative-induced holes, spaces, and voids and internal hallucinations become more vivid and intense on 1B-LSD. These effects correspond with an increased risk of confusion, delusions, and psychosis.
MDMA - 1B-LSD and MDMA are highly synergistic and mutually enhance each other's physical, cognitive, and visual effects. The synergy between these substances is unpredictable, and it is advised to start with markedly lower doses than one would take for each individually. There is some evidence that suggests LSD increases the neurotoxicity of MDMA, which may be relevant to 1B-LSD as well.[7][8][9]
Experience reports
Anecdotal reports which describe the effects of this compound within our experience index include:
Additional experience reports can be found here:
Toxicity and harm potential
The toxicity and long-term health effects of recreational 1B-LSD use have not been studied. This is because 1B-LSD is a research chemical with almost no history of human use.
Anecdotal reports suggest that there are no negative health effects attributed to simply trying 1B-LSD by itself, at low to moderate doses, and using it very sparingly (although nothing can be completely guaranteed). Independent research should always be conducted to ensure that a combination of two or more substances is safe before consumption.
Based on its similarity to LSD, 1B-LSD is assumed to be physiologically well-tolerated with a extremely low toxicity relative to dose. There are relatively few physical side effects that have been reported following acute 1B-LSD exposure.
However, as with LSD and psychedelics in general, it is likely that 1B-LSD can act as a trigger for those with underlying mental disorders. Those with a personal or family history of mental illness are generally advised not to use this substance, particularly when outside of a supervised medical setting.
It is strongly recommended that one uses harm reduction practices when using this substance.
Overdose
1B-LSD has no known toxic dose. However, higher doses increase the risk of adverse psychological reactions. These reactions include anxiety, delusions, panic attacks and, more rarely, seizures. Medical attention is usually not needed except in the case of severe psychotic episodes or the ingestion of fake acid (such as 25i-NBOMe or DOB). Administration of benzodiazepines or antipsychotics can help to relieve the acute negative cognitive effects of 1B-LSD.
Dependence and abuse potential
Although no formal studies have been conducted, it is assumed that like LSD itself, 1B-LSD is non-addictive with a low abuse potential. There are no literature reports of successful attempts to train animals to self-administer LSD — an animal model predictive of abuse liability — indicating that it does not have the necessary pharmacology to either initiate or maintain dependence.[10] Likewise, there is virtually no withdrawal syndrome when chronic use of LSD is stopped. It is assumed that 1B-LSD shares these properties with LSD.
Tolerance to the effects of 1B-LSD is built almost immediately after ingestion. After that, it takes about 5-7 days for the tolerance to be reduced to half and 14 days to be back at baseline (in the absence of further consumption). 1B-LSD produces cross-tolerance with all psychedelics, meaning that after the use of 1B-LSD they will have a reduced effect.
Dangerous interactions
Warning: Many psychoactive substances that are reasonably safe to use on their own can suddenly become dangerous and even life-threatening when combined with certain other substances. The following list provides some known dangerous interactions (although it is not guaranteed to include all of them).
Always conduct independent research (e.g. Google, DuckDuckGo, PubMed) to ensure that a combination of two or more substances is safe to consume. Some of the listed interactions have been sourced from TripSit.
The following substances are listed on the assumption that 1B-LSD possesses a similar if not the same dangerous interactions profile as LSD, and may include more due to its status as an unstudied research chemical.
Legal status
Internationally, 1B-LSD is not scheduled under the UN Convention on Psychotropic Substances. It is considered to exist in a legal grey area in many countries, meaning that while it is not specifically illegal, individuals may still be charged for its possession under certain circumstances such as under analogue laws and with the intent to sell or consume.
See also
External links
Discussion
Literature
Brandt, S. D., Kavanagh, P. V., Westphal, F., Stratford, A., Elliott, S. P., Hoang, K., ... & Halberstadt, A. L. (2016). Return of the lysergamides. Part I: Analytical and behavioural characterization of 1‐propionyl‐d‐lysergic acid diethylamide (1P‐LSD). Drug Testing and Analysis, 8(9), 891-902. https://doi.org/10.1002/dta.1884
Passie, T., Halpern, J. H., Stichtenoth, D. O., Emrich, H. M., & Hintzen, A. (2008). The Pharmacology of Lysergic Acid Diethylamide: A Review, 14, 295–314. https://doi.org/10.1111/j.1755-5949.2008.00059.x
Carhart-Harris, R. L., Muthukumaraswamy, S., Roseman, L., Kaelen, M., Droog, W., Murphy, K., … Nutt, D. J. (2016). Neural correlates of the LSD experience revealed by multimodal neuroimaging. Proceedings of the National Academy of Sciences. https://doi.org/10.1073/pnas.1518377113
References