Talk:MMDA
Jump to navigation
Jump to search
MMDA

Chemical Nomenclature
Common names
MMDA, 5-MeO-MDA
Substitutive name
3-Methoxy-4,5-methylenedioxyamphetamine, 5-Methoxy-3,4-methylenedioxyamphetamine
Systematic name
1-(7-Methoxy-2H-1,3-benzodioxol-5-yl)propan-2-amine
Class Membership
Psychoactive class
Entactogen / Psychedelic
Chemical class
Amphetamine
Routes of Administration

WARNING: Always start with lower doses due to differences between individual body weight, tolerance, metabolism, and personal sensitivity. See responsible use section.































DISCLAIMER: PW's dosage information is gathered from users and resources for educational purposes only. It is not a recommendation and should be verified with other sources for accuracy.

Interactions

MMDA (3-Methoxy-4,5-methylenedioxyamphetamine; also known as 5-Methoxy-MDA) is an obscure psychoactive substituted amphetamine with entactogenic and psychedelic properties. It is a closely related structural analog of mescaline and MDA.[1]
MMDA is described by Alexander Shulgin to induce 'eyelid movies' – "completely realistic innervisions". In PiHKAL, one user has reported: "Upon closing eyes hallucinations appear to be quite real in 3D, like watching a movie. First these dreams appear in black and white, but later colors start appearing. Chartreuse and magenta first appear, then blue and finally red. First I had visions of large numbers on gaming tables, then people."[2][3]
Shulgin noted that he had synthesized MMDA in 1962 while simultaneously Dr. Gordon A also synthesized MMDA in 1962 and named it accordingly.[4]
It is strongly advised to use harm reduction practises when choosing to use this drug.
Chemistry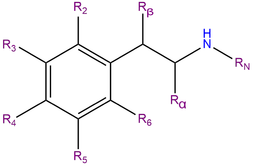 MMDA, also known as 5-methoxy-3,4-methylenedioxyamphetamine, is a synthetic molecule of the substituted amphetamine family. Molecules of the amphetamine class contain a phenethylamine core featuring a phenyl ring bound to an amino (NH2) group through an ethyl chain with an additional methyl substitution at Rα. Additionally, MMDA contains substitutions at R3 and R4 of the phenyl ring with oxygen groups that are incorporated into a methylenedioxy ring through a methylene bridge. In addition, it contains a methoxy group at R5. MMDA shares this methylenedioxy ring with other drugs like MDA and MDMA but differs with its additional methoxy substitution.
It is chemically related to its precursor compound, myristicin. It is believed that MMDA plays a role in the effects and pharmacology of myristicin.[5]
Pharmacology
MMDA likely acts as a releasing agent and reuptake inhibitor of the key monoamine neurotransmitters serotonin, dopamine and noradrenaline.
It is also theorized to act as a 5-HT2A receptor agonist. However, how the psychedelic and hallucinogenic effects work is currently not entirely known.
Alexander Shulgin notes that MMDA is responsible for some of the effects of myristicin.[6]
Subjective effects
This subjective effects section is a stub.

As such, it is still in progress and may contain incomplete or wrong information.

You can help by expanding or correcting it.
Disclaimer: The effects listed below cite the Subjective Effect Index (SEI), an open research literature based on anecdotal user reports and the personal analyses of PsychonautWiki contributors. As a result, they should be viewed with a healthy degree of skepticism.
It is also worth noting that these effects will not necessarily occur in a predictable or reliable manner, although higher doses are more liable to induce the full spectrum of effects. Likewise, adverse effects become increasingly likely with higher doses and may include addiction, severe injury, or death ☠.
Physical effects
Spontaneous tactile sensations - The "body high" of MMDA can be characterized as a moderate to extreme euphoric relaxing sensation that encompasses the entire body. It is capable of becoming overwhelmingly pleasurable at higher doses to the point of "flooring" or immobilizing the user. This sensation maintains a consistent presence that steadily rises with the onset and hits its limit once the peak has been reached.
Vibrating vision - At high doses, a person's eyeballs may begin to spontaneously wiggle back and forth in a rapid motion, causing the vision to become blurry and temporarily out of focus. This is a condition known as nystagmus.
Dehydration - Like related entactogenic stimulants, feelings of dry mouth and dehydration are a universal experience with MMDA; this effect is a product of an increased heart rate and metabolism. While it is important to avoid becoming dehydrated there have been a number of users who have suffered from water intoxication through over-drinking, so it is advised that users simply sip at the water and never over-drink.
Difficulty urinating - Higher doses of MMDA result in an overall difficulty when it comes to urination. This is an effect that is completely temporary and harmless. It is caused by MMDA's promotion of the release of anti-diuretic hormone (ADH); ADH is responsible for regulating urination. This effect can be lessened by simply relaxing, but can be significantly relieved by placing a hot flannel over the genitals to warm them up and encourage blood flow.
Increased bodily temperature - As MMDA is a serotonin releasing agent, rise in core body temperature tends to be high and consistent throughout the experience. Caution must be taken as too high of a dose results in serotonin syndrome which can be fatal if left untreated.
Physical euphoria - This effect is not as reliably induced with substances such as MDMA or MDA and higher dosages may result in physical dysphoria.
Teeth grinding - This is a typical effect of entactogens such as MDMA and MDA.
Visual effects
MMDA has pronounced imagery within its closed-eye visuals with scenes and stories.

Enhancements

MMDA presents an array of visual enhancements which at appropriately high doses produce a full spectrum of open-eye and closed-eye visuals. These generally include:

Suppressions

Distortions

Hallucinatory states

MMDA is capable of producing a unique range of high level hallucinatory states in a fashion that is significantly more consistent and reproducible than that other entactogens but less that of many other commonly used psychedelics. These effects are consistent at high dosages and commonly include:
Cognitive effects
The cognitive effects of MMDA can be broken down into several components which progressively intensify proportional to dosage. It contains a large number of typical psychedelic, entactogenic and stimulant cognitive effects. MMDA's headspace at lower dosages is relaxing with feelings of euphoria and happiness. Higher dosages however result in increasingly deep and vivid "dreams" reminiscent of distinct hallucinogenic and deliriant effects. The most prominent of these cognitive effects generally include:

Cognitive euphoria - At low to common dosages, strong emotional euphoria and feelings of happiness are present within MMDA and are likely a direct result of serotonin and dopamine release. At higher dosages, the deliriant effects typically result in cognitive dysphoria.
Empathy, love, and sociability enhancement - This particular effect is present, but not nearly as consistent, pronounced, powerful and therapeutic than one would experience with MDMA With time and repeated use, however, this effect becomes severely diminished as the perspective it instills becomes fully grounded and already in place, making people feel merely stimulated and euphoric with no new found urges to communicate, with others. Some users report that MMDA "loses its magic" with as few as 10 experiences, while others have reported hundreds of uses before the empathic qualities disappear. This does not appear to be valid for all users, however, with many users reporting that they have not experienced any decrease in quality of the experience despite dozens or even hundreds of uses.
Auditory effects
After effects
The effects which occur during the offset of a stimulant experience generally feel negative and uncomfortable in comparison to the effects which occurred during its peak. This is often referred to as a "comedown" and occurs because of neurotransmitter depletion. Its effects commonly include:
Experience reports
There are currently anecdotal reports which describe the effects of this compound within our experience index. Additional experience reports can be found here:
Toxicity and harm potential
Short-term health concerns
Short-term physical health risks of MMDA consumption include dehydration, insomnia, hyperthermia,[7][8] and hyponatremia.[9] Continuous activity without sufficient rest or rehydration may cause body temperature to rise to dangerous levels, and loss of fluid via excessive perspiration puts the body at further risk as the stimulatory and euphoric qualities of the drug may render the user oblivious to their energy expenditure for quite some time. Diuretics such as alcohol may exacerbate these risks further.
The exact toxic dosage is unknown. It is advised to avoid very large doses of this compound.
Long-term health concerns
The neurotoxicity of MMDA is currently not known, but it can be assumed to posess a similar or greater neurotoxicity than MDMA and more compareable to MDA. Scientific study has resulted in the general agreement that, although it is physically safe to try in a responsible context, the administration of repeated or high dosages of MMDA is most likely neurotoxic in some form.
Like other powerful serotonin releasing agents, MMDA is thought to cause down-regulation of serotonin reuptake transporters in the brain. The rate at which the brain recovers from serotonergic changes is unclear. One study demonstrated lasting serotonergic changes in some animals exposed to MDMA, which likely applies to MMDA as well.[10]

Like with MDMA, the long-term heavy use of MMDA is likely similarly or even more cardiotoxic, leading to valvulopathy through its actions on the 5-HT2B receptor.[11] In one study, 28% of long-term users (2-3 doses per week for a mean of 6 years, mean of age 24.3 years) had developed clinically evident valvular heart disease.[12]
It is strongly recommended that one use harm reduction practices when using this drug.
Tolerance and addiction potential
As with other stimulants, the chronic use of MMDA can be considered moderately addictive with a high potential for abuse and is capable of causing psychological dependence among certain users. When addiction has developed, cravings and withdrawal effects may occur if a person suddenly stops their usage.
Tolerance to many of the effects of MMDA develops with prolonged and repeated use. This results in users having to administer increasingly larger doses to achieve the same effects. After that, it takes about 1 months for the tolerance to be reduced to half and 2-3 months to be back at baseline (in the absence of further consumption). MMDA presents cross-tolerance with all dopaminergic and serotonergic stimulants and entactogens, meaning that after the consumption of MMDA all of these will have a reduced effect.
Dangerous interactions
Warning: Many psychoactive substances that are reasonably safe to use on their own can suddenly become dangerous and even life-threatening when combined with certain other substances. The following list provides some known dangerous interactions (although it is not guaranteed to include all of them).
Always conduct independent research (e.g. Google, DuckDuckGo, PubMed) to ensure that a combination of two or more substances is safe to consume. Some of the listed interactions have been sourced from TripSit.
25x-NBOMe & 25x-NBOH - 25x compounds are highly stimulating and physically straining. Combinations with MMDA should be strictly avoided due to the risk of excessive stimulation and heart strain. This can result in increased blood pressure, vasoconstriction, panic attacks, thought loops, seizures, and heart failure in extreme cases.
Alcohol - Combining alcohol with stimulants can be dangerous due to the risk of accidental over-intoxication. Stimulants mask alcohol's depressant effects, which is what most people use to assess their degree of intoxication. Once the stimulant wears off, the depressant effects will be left unopposed, which can result in blackouts and severe respiratory depression. If mixing, the user should strictly limit themselves to only drinking a certain amount of alcohol per hour.
DXM - Combinations with DXM should be avoided due to its inhibiting effects on serotonin and norepinephrine reuptake. There is an increased risk of panic attacks and hypertensive crisis, or serotonin syndrome with serotonin releasers (MDMA, methylone, mephedrone, etc.). Monitor blood pressure carefully and avoid strenuous physical activity.
MDMA - Any neurotoxic effects of MDMA are likely to be increased when other stimulants are present. There is also a risk of excessive blood pressure and heart strain (cardiotoxicity).
MXE - Some reports suggest combinations with MXE may dangerously increase blood pressure and increase the risk of mania and psychosis.
Dissociatives - Both classes carry a risk of delusions, mania and psychosis, and these risk may be multiplied when combined.
Stimulants - MMDA may be dangerous to combine with other stimulants like cocaine as they can increase one's heart rate and blood pressure to dangerous levels.
Tramadol - Tramadol is known to lower the seizure threshold[13] and combinations with stimulants may further increase this risk.
MAOIs - This combination may increase the amount of neurotransmitters such as dopamine to dangerous or even fatal levels. Examples include syrian rue, banisteriopsis caapi, and some antidepressants.[14]
Stimulants - The neurotoxic effects of MMDA may be increased when combined with other stimulants.
Cocaine - This combination may increase strain on the heart.
Combinations with the following substances can cause dangerously high serotonin levels. Serotonin syndrome requires immediate medical attention and can be fatal if left untreated.
There is an increased risk of serotonin syndrome when MMDA is taken with many antidepressants, particularly selective serotonin reuptake inhibitors (SSRIs) and serotonin-norepinephrine reuptake inhibitors (SNRIs). Additionally, if MMDA is taken with SSRIs and SNRIs, the MMDA will be significantly less powerful or may have no distinguishable effects at all.
Legal status
This legality section is a stub.

As such, it may contain incomplete or wrong information. You can help by expanding it.
UK: MMDA is a Class A drug.
See also
External links
References