Cocaine
Jump to navigation
Jump to search
Cocaine

Chemical Nomenclature
Common names
Cocaine, Coke, Coca, Crack, Blow, Girl, White, Snow, Nose Candy, Chari
Substitutive name
Benzoylmethylecgonine
Systematic name
Methyl (1R,2R,3S,5S)-3- (Benzoyloxy)-8-methyl-8-azabicyclo[3.2.1] octane-2-carboxylate
Class Membership
Psychoactive class
Stimulant
Chemical class
Tropane alkaloid
Routes of Administration

WARNING: Always start with lower doses due to differences between individual body weight, tolerance, metabolism, and personal sensitivity. See responsible use section.




























DISCLAIMER: PW's dosage information is gathered from users and resources for educational purposes only. It is not a recommendation and should be verified with other sources for accuracy.

Interactions

Mushrooms

LSD

DMT

Mescaline

2C-x

Cannabis

Ketamine

MXE

Amphetamines

MDMA

Caffeine

GHB

GBL

DOx

25x-NBOMe

2C-T-x

5-MeO-xxT

DXM

PCP

Alcohol

ΑMT

Opioids

Tramadol

MAOIs
Cocaine (also known as benzoylmethylecgonine, and informally as coke, cola, snow, blow, white, among others) is a classical stimulant substance of the tropane class. It is a naturally-occurring alkaloid extracted from the leaves of several coca plant species; namely Erythroxylum coca and Erythroxylum novogranatense.[3] The mechanism of action involves increasing levels of serotonin, dopamine, and norepinephrine in the brain.
Cocaine is one of the most widespread and highly controlled illicit substances in the world. According to a 2007 United Nations report, it was the second most widely used substance in the world, after cannabis.[4] It is considered a major so-called "street drug" and "drug of abuse", alongside heroin and methamphetamine.
Subjective effects include stimulation, increased blood pressure, appetite suppression, disinhibition, motivation enhancement, ego inflation, increased libido, and euphoria. Routes of administration include insufflation ("snorting" or "sniffing") and occasionally injection. Oral intake is rare but possible, and possesses a marketly longer duration; 60 minutes as opposed to 10 - 20 minutes when insufflated or 5 minutes smoked.[5][6]
The typical cocaine high is characterized by a rapid onset and a short duration, featuring a powerful euphoric "rush" that is followed by a marked comedown or "crash" — an experience that can promote compulsive redosing. Excessive use is reported to increase the risk of anxiety, paranoia, minor hallucinations, mania, and, in rare cases, psychosis.
It is known to have high abuse potential.
Chronic use (i.e. high dose, repeat administration) is associated with escalating tolerance and physiological dependence, which can become severe if left untreated.
Additionally, some evidence suggests it poses unique cardiotoxic risks compared to other CNS stimulants, including the entire amphetamine class.[7] Even "regular" use has been linked to the development of permanent heart conditions and it also appears to cause sudden cardiac death in susceptible individuals (see this section for more).[8]
It is highly advised to use harm reduction practices if using this substance.
History and culture
This History and culture section is a stub.

As a result, it may contain incomplete or wrong information. You can help by expanding it.
Cocaine is among one of the oldest recreational drugs with a 1000-year-old collection of drug paraphernalia being found in a rock shelter in Bolivia featuring traces of five psychoactive chemicals, including cocaine and components of ayahuasca.[9]
However, it's highly likely that it was consumed as powder cocaine and instead as coca leaves which can be chewed to create a less intense stimulant effect, subjectively comparable to that of caffeine. Coca leaves do not One of the earliest documentations of cocaine alkaloid isolation are 1855 [10] where German chemist Friedrich Gaedcke published a description in the journal "Archiv der Pharmazie", naming the alkaloid "erythoxyline." 5 years later, 1860, Albert Niemann describes the isolation of an alkaloid from coca and calls it cocaine. With this, the history of cocaine begins, splitting from coca leaf use. Western medicine was quick to exploit the many perceivable surface level benefits of the drug, and research publications within pharmaceutical communities began.
One such highlight of the papers published would be Sigmund Freud's collection of publications referred to as the "Cocaine Papers"[11] which can be considered partly responsible for the surge in popularity both when published and upon the rediscovery of the papers, around 1974. In these papers he correctly speculates the medical use of cocaine as an anaesthesia due to its numbing effects: "The capacity of cocaine [...], to anesthetize cutaneous and mucous membranes suggests a possible future use, especially in cases of local infections .... Some additional uses of cocaine based on this anesthetic property are likely to be developed in the near future." Furthermore to cocaine's numbing effects on the lips and mouth being observed by Freud.
Freud notes his studied effects on hunger, sleep, and fatigue. describing; "...exhilaration and lasting euphoria, which in no way differs from the normal euphoria of the healthy person .... You perceive an increase of selfcontrol and possess more vitality and capacity for work .... In other words, you are simply normal, and it is soon hard to believe that you are under the influence of any drug .... Long intensive mental or physical work is performed without any fatigue .... This result is enjoyed without any of the unpleasant after-effects that follow exhilaration brought about by alcohol. ... Absolutely no craving for the further use of cocaine appears after the first, or even repeated, taking of the drug; one feels rather a certain curious aversion to it." The final statement contradicting much of the modern reputation surrounding the cravings cocaine induces following use (compulsive redosing).
Freud also suggests that cocaine be used for morphine withdrawal treatment.
The first major article on the drug and part of the collection of "Cocaine Papers" would be Sigmund Freud's 1884 "Uber Coca." that outlines many major observed effects and offers a scientific breakdown of the potential uses of the drug. Freud observes:
"A few minutes after taking cocaine, one experiences a sudden exhilaration and feeling of lightness. One feels a certain furriness on the lips and palate, followed by a feeling of warmth in the same areas; if one now drinks cold water, it feels warm on the lips and cold in the throat. On other occasions the predominant feeling is a rather pleasant coolness in the mouth and throat" The euphoria or physical euphoria felt from the drug is referenced. The trademark mouth numbing can be read from the experience narration too.
According to a 2007 United Nations report, cocaine is the second most widely used illicit substance in the world, after cannabis.[4]
In terms of user rates (as of 2007), Spain is the country with the highest rate of cocaine usage (3.0% of adults in the previous year). Other countries where the usage rate meets or exceeds 1.5% are the United States (2.8%), England and Wales (2.4%), Canada (2.3%), Italy (2.1%), Bolivia (1.9%), Chile (1.8%), and Scotland (1.5%).[12]
Etymology
The name cocaine is derived from "coca" and the alkaloid suffix "-ine".
Common names
Cocaine has numerous common or street names, including coke, coca, cola, snow, ski, blow, nose candy, white, and girl. Spanish-influenced names include lello, yayo, yeyo, or yay. More regional to the UK are biff, charlie, lemos, flake among others.
Chemistry
Cocaine is a tropane alkaloid found in the leaves of the coca plant, Erythroxylum coca. It is most commonly consumed as the hydrochloride salt which is typically produced in clandestine laboratories in nations like Colombia. Cocaine decomposes when heated strongly so the freebase and hydrogen carbonate salts of cocaine, which have much lower boiling points compared to the hydrochloride salt, are typically used when the substance is to be vaporized and are known as cocaine base and "crack" respectively.
The chemical structure of cocaine consists of three parts; the hydrophilic methyl ester moiety and the lipophilic benzoyl ester moiety, which are located in place of the carboxylic acid and hydroxyl groups of ecgonine respectively. This structure allows for its rapid absorption through nasal membranes and blood-brain barrier.
The presence of the two ester groups makes cocaine relatively unstable in warm, humid environments and cocaine stored in an open container or with a high moisture content will lose apparent potency over time due to hydrolysis to methyl ecgonine or benzoylecgonine.
Pharmacology
The most extensively studied effect of cocaine on the central nervous system is the blockade of the dopamine transporter. This substance acts as a reuptake inhibitor and prevents dopamine from being recycled, causing excessive amounts to build up in the synapse, or junction between neurons. The result is an enhanced and prolonged post-synaptic effect of dopaminergic signaling. To a lesser extent, cocaine also exhibits functionally similar effects of reuptake inhibition upon the neurotransmitters of serotonin and noradrenaline.[13] It is this sudden flood of neurotransmitters that causes cocaine's characteristic high.
The pharmacodynamics of cocaine involve the complex relationships of neurotransmitters (inhibiting monoamine uptake in rats with ratios of about: serotonin:dopamine = 2:3, serotonin:norepinephrine = 2:5). The most extensively studied effect of cocaine on the central nervous system is the blockade of the dopamine transporter protein. Dopamine transmitter released during neural signaling is normally recycled via the transporter; i.e., the transporter binds the transmitter and pumps it out of the synaptic cleft back into the presynaptic neuron, where it is taken up into storage vesicles.
Cocaine binds tightly at the dopamine transporter forming a complex that blocks the transporter's function. The dopamine transporter can no longer perform its reuptake function, and thus dopamine accumulates in the synaptic cleft. The increased concentration of dopamine in the synapse activates post-synaptic dopamine receptors, which makes the drug rewarding and promotes the compulsive use of cocaine.[14]
Subjective effects
Disclaimer: The effects listed below cite the Subjective Effect Index (SEI), an open research literature based on anecdotal user reports and the personal analyses of PsychonautWiki contributors. As a result, they should be viewed with a healthy degree of skepticism.
It is also worth noting that these effects will not necessarily occur in a predictable or reliable manner, although higher doses are more liable to induce the full spectrum of effects. Likewise, adverse effects become increasingly likely with higher doses and may include addiction, severe injury, or death ☠.
The cognitive effects of cocaine can be broken down into several components which progressively intensify proportional to dosage. The general headspace of cocaine is described as one of extreme mental stimulation, increased motivation, increased sex drive, and overwhelming euphoria and/or satisfaction. Subjective experience of the drug can heavily depend quality and purity however which can vary drastically.
Physical effects
Stimulation - Cocaine is reported to be extremely energetic and stimulating in a fashion that is comparatively weaker than methamphetamine, but often stronger than that of amphetamine, modafinil, caffeine, and methylphenidate. The particular style of stimulation which cocaine presents can be described as encouraged at low to moderate dosages but forced at higher dosages. This means that at certain dosages, it becomes difficult or impossible to keep still as jaw clenching, involuntarily bodily shakes and vibrations become present, resulting in extreme shaking of the entire body, unsteadiness of the hands, and a general lack of fine motor control. This effect is replaced with mild fatigue and general exhaustion during the offset of the experience. Many users however report relatively limited "energizing" effects compared to the standard amphetamines, and will not uncommonly even report certain "relaxing" effects or notable euphoria and elation but with limited amounts of actual stimulation.
Abnormal heartbeat - Cocaine consistently raises one's heart rate to abnormally high levels which can be potentially dangerous with prolonged or high dosing, especially during short windows of time. Even subtle physical activities such as walking can seemingly induce an unusually fast heartbeat; even compared to other stimulants. Therefore it is recommended for users to partake in a less amount physical activity than is typical, even compared to these other substances due to the drug's uniquely prominent effect on pulse rate and cardiac output. Cocaine is a particularly cardiotoxic stimulant.
Appetite suppression - This component can often be less intense for new or unconditioned users.
Bronchodilation - This can sometimes be very apparent and can result in an inability to swallow.
Pain relief - One of the few accepted medical uses of cocaine is anesthetic pain relief; namely due to tactile suppression (numbness). This effect seems to be mediated mainly from sodium channel blockage. In recreational contexts, such as with insufflation; this is noticeably felt primarily in the nasal passages, throat, and/or front teeth. A numbing of the whole face though is usually indicative of cutting agents added to the substance such as Novacaine.
Tactile hallucination[15] - High doses and/or prolonged usage of certain dopaminergic stimulants like methamphetamine and cocaine can lead to hallucinatory sensations of bugs crawling on the surface of or underneath one's skin (formication). This is typically referred to as delusional parasitosis or more informally as "coke bugs".
Teeth grinding - This component can be considered to be less intense when compared with that of MDMA.
Vasoconstriction - Like other stimulants, this can cause users to feel colder in various parts of the body, such as the hands. This can become very dangerous when combined with other vasoconstrictors, such as nicotine.
Cognitive effects
The mental headspace and cognitive effects of cocaine, especially when compared to other classic stimulants is often considered exceptionally euphoric and elating with a noticeable initial "rush" that quickly levels out into a lesser high before soon fading off within a dozen or so minutes unless (safely) redosed. It is sometimes reported as being more "hedonistic", manic or distractible compared to stimulants of a similar caliber or strength; such as most amphetamines, but while still often being reported as typically less "scatterbrained" than moderate to high doses of the common xanthine stimulant known as caffeine. It commonly presents noticeably less enhancements in executive functioning compared to other strong stimulants as well. It is also known for its supposed "honeymoon phase", where the effects of cocaine (especially mental) seem either particularly or disproportionately positive when a user is new to the substance; often with effects like appetite suppression and wakefulness reportedly being less intense with earlier exposures to the drug.

Analysis enhancement - This effect is usually only present at low to moderate doses.
Compulsive redosing - This effect is more prevalent than with any other commonly used stimulant.
Cognitive euphoria - When insufflated (snorted), this component almost invariably presents itself first as an initial "rush" feeling within the first 5 - 10 minutes before quickly leveling-out into a lesser degree of mental euphoria for another 10 or so minutes. However, other mental and physical components can outlast this initial highly-sought after euphoric rush stage of the high.
Ego inflation - This effect can manifest inconsistently or sporadically, and sometimes conversely; only on the tail-end, with repeated dosing or even paradoxically, in conjunction with other more amicable components such as Empathy, affection, and sociability enhancement; however still markedly less than with MDMA and entactogens.
Focus enhancement - This component is most effective at low to moderate dosages as anything higher will usually impair concentration. This effect is still considerably less prominent when compared to amphetamines however, and usually consists of increased distractibility and often an inability to stay focused on a single task at a time. The rewarding feeling, fleeting cognitive enhancements, and unusually euphoric mental "rush" from insufflation has often been cited as being the primary reason for this limited increased focus potential.
Increased libido - This may be more prominent or intense in its particular style (compared to similar substances) due to the drug's alleged effects on testosterone levels as oppose to just the increase in dopamine. It can also be dosage dependent.
Increased music appreciation - This component can become less intense or even not present at all after regular or prolonged use.
Irritability - Although usually this effect is seen mostly after the peak or during the comedown phase; irritability and/or extreme impatience associated with cocaine is notorious in its occassional and largely unpredictable potential intensity. It colloquialy known as "coke rage."[16]
Mania - This aspect of cocaine (particularly with insufflation) is typically one of the main qualities that designates it as being less clearheaded and "functional" when compared to equipotent dosages of amphetamines.
Memory enhancement - This is usually only present during the very brief peak effects, but can be unusually prominent; possibly do to cocaine's increased signaling of acetylcholine in the brain.
Memory suppression - This effect is most prevalent in high doses and appears to mostly impact short term memory.
Ringing in ears - This effect is usually only experienced when cocaine is administered intravenously and is referred to as a "bell ringer".
Thought acceleration - This aspect can continue even once the main effects have worn off.
Thought organization - This possible effect is regarded as being considerably less prominent when compared to that of amphetamines.
Time compression - This can be described as the experience of time speeding up and passing much quicker than it usually would when sober.
Wakefulness - This is considered less prominent when compared to amphetamine stimulants, particularly methamphetamine.
After effects
The effects which occur during the offset of a stimulant experience generally feel negative and uncomfortable in comparison to the effects which occurred during its peak. This is often referred to as a comedown or "crash" and occurs because of neurotransmitter depletion. Many users report however that the severity of the "crash" depends on dose; with apparently low or modest doses sometimes displaying a lack of intensity for the crash compared to other major-neurotransmitter depleting stimulants. Its effects commonly include:
Experience reports
There are currently no anecdotal reports which describe the effects of this compound within our experience index. Additional experience reports can be found here:
Common usage
Cocaine is often adulterated when sold on black markets and this can significantly alter its effects on the body. Even when adulterants are pharmacologically inactive, their combination with the long-term perishability of cocaine due to moisture can lead to vastly differing apparent potencies between dosages of cocaine, and as such, it can be challenging to determine a "typical" recreational dose.
Pure cocaine is very potent and generates perceptible local anesthetic (numbing) effects from 1 mg and perceptible CNS stimulation from 5-7 mg; however, much higher doses tend to be used in recreational settings.
Forms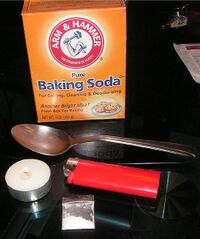 Toxicity and harm potential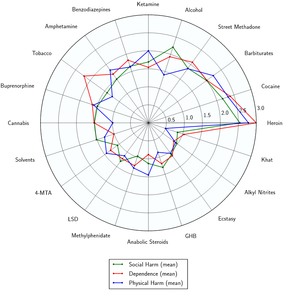 Chronic cocaine use has been shown to lead to neurotoxicity in rodents and humans, being associated with high morbidity and mortality rates.[20] Its extended use or abuse does also cause short-term downregulation of neurotransmitters.
The most potentially harmful physical effects of cocaine appear to be not neurological but cardiovascular. Severe cardiac adverse events, particularly sudden cardiac death, become a serious risk at high doses due to cocaine's blocking effect on cardiac sodium channels.[8] Moreover, long-term cocaine use may result in cocaine-related cardiomyopathy.[21]
Regular cocaine insufflation, the most popular method of ingestion, can have extremely adverse effects on one's nostrils, nose, and nasal cavities. These include a loss of the sense of smell, nosebleeds, difficulty swallowing, hoarseness, or a chronically runny nose.
It is strongly recommended that one use harm reduction practices if using this substance.
Lethal dosage
Susceptible individuals have died from as little as 30 mg applied to mucous membranes, whereas addicts may tolerate up to 5 grams daily.[22]
Dependence and abuse potential
As with other stimulants, the chronic use of cocaine can be considered highly addictive with a high potential for abuse and is capable of causing psychological dependence among certain users. When addiction has developed, cravings and withdrawal effects may occur if a person suddenly stops their usage. Addiction is a serious risk with heavy recreational cocaine use but is unlikely to arise from typical medical use.
Tolerance to many of the effects of cocaine develops with prolonged and repeated use. This results in users having to administer increasingly large doses to achieve the same effects. After that, it takes about 3 - 7 days for the tolerance to be reduced to half and 1 - 2 weeks to be back at baseline (in the absence of further consumption).
Cocaine exhibits cross-tolerance with all dopaminergic stimulants, meaning that after the consumption of cocaine all stimulants will have a reduced effect.
Withdrawal symptoms
After taking cocaine on a regular basis, some users will become addicted. When the substance is discontinued immediately, the user will experience what has come to be known as a "crash" along with a number of other cocaine withdrawal symptoms including paranoia, depression, Decreased libido, anxiety, itching, mood swings, irritability, fatigue, insomnia, an intense craving for more cocaine, and, in some cases, nausea and vomiting.
These symptoms can last for weeks or, in some cases, months. Even after most withdrawal symptoms dissipate most users feel the need to continue using the drug; this feeling can last for years and may peak during times of stress. About 30-40% of cocaine addicts will turn to other substances such as medication and alcohol after giving up cocaine.
Psychosis
Cocaine has a similar potential to induce temporary psychosis[23] with more than half of cocaine abusers reporting at least some psychotic symptoms at some point.[24]
Typical symptoms of sufferers include paranoid delusions that they are being followed and that their drug use is being watched accompanied by hallucinations that support the delusional beliefs.[25] Delusional parasitosis with formication ("cocaine bugs") is also a fairly common symptom.[25]
Cocaine-induced psychosis shows sensitization toward the psychotic effects of the drug. This means that psychosis becomes more severe with repeated intermittent use.[26]
Dangerous interactions
Warning: Many psychoactive substances that are reasonably safe to use on their own can suddenly become dangerous and even life-threatening when combined with certain other substances. The following list provides some known dangerous interactions (although it is not guaranteed to include all of them).
Always conduct independent research (e.g. Google, DuckDuckGo, PubMed) to ensure that a combination of two or more substances is safe to consume. Some of the listed interactions have been sourced from TripSit.
Legal status
See also
External links
References