1P-ETH-LAD
Jump to navigation
Jump to search
1P-ETH-LAD

Chemical Nomenclature
Common names
1P-ETH-LAD
Substitutive name
1-propionyl-6-ethyl-6-nor-lysergic acid diethyamide
Systematic name
(6aR,9R)-4-propionyl-N,N-diethyl-7-ethyl-4,6,6a,7,8,9-hexahydroindolo[4,3-fg]quinoline-9-carboxamide
Class Membership
Psychoactive class
Psychedelic
Chemical class
Lysergamide
Routes of Administration

WARNING: Always start with lower doses due to differences between individual body weight, tolerance, metabolism, and personal sensitivity. See responsible use section.































DISCLAIMER: PW's dosage information is gathered from users and resources for educational purposes only. It is not a recommendation and should be verified with other sources for accuracy.

Interactions

Cannabis

Stimulants

Tramadol

Lithium

1-Propionyl-6-ethyl-6-nor-lysergic acid diethyamide (also known as 1P-ETH-LAD) is a semisynthetic psychedelic substance of the lysergamide chemical class. It is a designer drug analog and suspected prodrug to ETH-LAD, which shares a close structural relationship with LSD and 1P-LSD. Anecdotal reports suggest that this compound produces largely similar psychedelic effects comparable to ETH-LAD or AL-LAD.
Like its parent compound ETH-LAD, this compound has been reported to be moderately to significantly more potent than LSD itself. It has also been reported as being subtly different in effect to LSD and is often described as being more visual and synaesthetic, with a deeper, less emotionally-charged headspace analogous to that of psychedelics like 2C-E or DPT. It has also been reported to be more likely to induce undesirable effects like anxiety, thought loops in addition to pronounced nausea and other discomforting physical effects it displays relative to other lysergamides.
Very little data exists about the pharmacological properties, metabolism, and toxicity of 1P-ETH-LAD, and it has little history of human usage before January 2016.[1] It has recently become commonly marketed alongside other designer psychedelics such as 1P-LSD and ETH-LAD as a legal alternative to LSD and is commercially distributed through online research chemical vendors.
Chemistry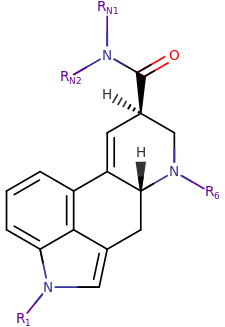 1P-ETH-LAD, or 1-propionyl-6-ethyl-6-nor-lysergic acid diethylamide, is a semi-synthetic alkaloid of the lysergamide family. 1P-ETH-LAD is a structural analog of lysergic acid, with an N, N-diethylamide functional group bound to RN of the chemical structure. This core polycyclic structure is an ergoline derivative and has tryptamine and phenethylamine groups embedded within it.
1P-ETH-LAD's structure contains a bicyclic hexahydro indole fused to a bicyclic quinoline group (nor-lysergic acid). 1P-ETH-LAD does not contain a methyl group substituted at R6 of its nor-lysergic acid skeleton; the nor- prefix represents this. Instead, 1P-ETH-LAD is substituted at R6 with an ethyl group and at R1 with a propionyl group. At carbon 8 of the quinoline, an N, N-diethyl carboxamide is bound.
1P-ETH-LAD is a chiral compound with two stereocenters at R5 and R8. 1P-ETH-LAD, also called (+)-D-1P-ETH-LAD, has an absolute configuration of (5R, 8R). The three other stereoisomers of 1P-ETH-LAD have not been shown to possess psychoactive properties.[2]
Pharmacology
This compound likely acts as a 5-HT2A partial agonist. The psychedelic effects are believed to come from 1P-ETH-LAD's efficacy at the 5-HT2A receptors. However, the role of these interactions and how they result in the psychedelic experience continues to remain elusive.
1P-ETH-LAD shares many common traits with its parent compound LSD; it appears to be roughly equal in potency as well as similar in mechanism although the progression and duration of effects are compressed (while remaining qualitatively less intense and more manageable) due to suspected differences in how it is metabolized. Research has shown formation of ETH-LAD from 1P-ETH-LAD incubated in human serum, suggesting that it functions as a pro-drug.[3]
Subjective effects
This subjective effects section is a stub.

As such, it is still in progress and may contain incomplete or wrong information.

You can help by expanding or correcting it.
In comparison to other psychedelics such as psilocybin mushrooms, LSA and ayahuasca, 1P-ETH-LAD is significantly more stimulating and fast-paced in its cognitive effects and general head space. In comparison to LSD, it is reported to be less anxiety-provoking and more emotionally comfortable and forgiving.
Disclaimer: The effects listed below cite the Subjective Effect Index (SEI), an open research literature based on anecdotal user reports and the personal analyses of PsychonautWiki contributors. As a result, they should be viewed with a healthy degree of skepticism.
It is also worth noting that these effects will not necessarily occur in a predictable or reliable manner, although higher doses are more liable to induce the full spectrum of effects. Likewise, adverse effects become increasingly likely with higher doses and may include addiction, severe injury, or death ☠.
Physical effects
Stimulation - 1P-ETH-LAD is usually considered to be very energetic and stimulating without being forced. For example, when taken in any environment it will usually encourage physical activities such as running, walking, climbing or dancing. In comparison, other more commonly used psychedelics such as psilocin are sedating and relaxing.
Spontaneous bodily sensations - The "body high" of 1P-ETH-LAD can be described as proportionally intense in comparison to its accompanying visual and cognitive effects. It behaves as a euphoric, fast-moving, sharp and location specific tingling sensation. For some, it is manifested spontaneously at different, unpredictable points throughout the trip, but for most, it maintains a steady presence that rises with the onset and hits its limit once the peak has been reached. In comparison to LSD, it is a little less sharp in its tingles, less likely to be uncomfortable but otherwise essentially identical.
Nausea - Mild nausea is occasionally reported when consumed in moderate to high dosages and either passes instantly once the tripper has vomited or gradually fades by itself as the peak sets in.
Tactile enhancement - Feelings of enhanced tactile sensation are consistently present at moderate levels throughout most 1P-ETH-LAD trips.
Visual effects
Enhancements

Distortions

Drifting (melting, breathing, morphing and flowing) - In comparison to other psychedelics, this effect can be described as highly detailed yet cartoon-like in appearance. The distortions are slow and smooth in motion and fleeting in their appearance. This is nearly identical in appearance to the visual drifting which occurs under the influence of LSD

1P-ETH-LAD visual geometry can be described as more similar in appearance to that of LSD, 2C-B or 2C-I than psilocin, LSA or DMT. It can be comprehensively described through its variations as primarily intricate in complexity, algorithmic in form, unstructured in organization, brightly lit, colourful in scheme, organic in feel, multicoloured in scheme, flat in shading, soft in its edges, large in size, slow in speed, smooth in motion, either angular or round in its corners, non-immersive in-depth and consistent in intensity. At higher dosages, it consistently results in states of level 8B visual geometry over level 8A.

In comparison to LSD specifically, its geometry tends to be more rounded in its corners, slightly softer in its edges and a little less intricate in its form. Aside from this, it is otherwise identical in its appearance.

Hallucinatory states

1P-ETH-LAD is capable of producing a full range of low and high-level hallucinatory states in a fashion that is a little less consistent and reproducible than that of many other commonly used psychedelics such as psilocin or DMT but considerably more likely when to compared to that of LSD. This can feel similar to the hallucinations which occur with 4-AcO-DMT but tends to occur almost exclusively at heavier dosages. These effects include:

Internal hallucination (autonomous entities; settings, sceneries, and landscapes; perspective hallucinations and scenarios and plots) - This effect is very consistent in dark environments at appropriately high dosages. The hallucinations can be comprehensively described through their variations as lucid in believability, interactive in style, new experiences in content, autonomous in controllability, geometry-based in style and occasionally of a personal, religious, spiritual, science-fiction, fantasy, surreal, nonsensical or transcendental nature in their overall theme.
Cognitive effects
Auditory effects
Experience reports
Anecdotal reports which describe the effects of this compound within our experience index include:
Additional experience reports can be found here:
Toxicity and harm potential
The toxicity and long-term health effects of recreational 1P-ETH-LAD use do not seem to have been studied in any scientific context and the exact toxic dose is unknown. This is because 1P-ETH-LAD is a research chemical with very little history of human usage.
Anecdotal reports from those who have tried 1P-ETH-LAD suggests that there are no negative health effects attributed to simply trying the substance by itself at low to moderate doses and using it very sparingly (but nothing can be completely guaranteed).
Independent research should always be conducted to ensure that a combination of two or more substances is safe before consumption.
It is strongly recommended that one use harm reduction practices when using this substance.
Tolerance and addiction potential
1P-ETH-LAD is not habit-forming and the desire to use it can actually decrease with use. Like with most psychedelics, it is thought to be most often self-regulating rather than self-reinforcing.
Tolerance to the effects of 1P-ETH-LAD is built almost immediately after ingestion. After that, it takes about 3 days for the tolerance to be reduced to half and 7 days to be back at baseline (in the absence of further consumption). It should be noted that this only applies to the physiological tolerance. Mental or psychological tolerance is thought by some to take two weeks or more for the full experience to re-manifest.
Due to its activity at the 5-HT2A receptor, 1P-ETH-LAD presents cross-tolerance with all psychedelics, meaning that after the consumption of 1P-ETH-LAD all psychedelics (particularly the tryptamines and other lysergamides) will display a reduced effect.
Dangerous interactions
Warning: Many psychoactive substances that are reasonably safe to use on their own can suddenly become dangerous and even life-threatening when combined with certain other substances. The following list provides some known dangerous interactions (although it is not guaranteed to include all of them).
Always conduct independent research (e.g. Google, DuckDuckGo, PubMed) to ensure that a combination of two or more substances is safe to consume. Some of the listed interactions have been sourced from TripSit.
Legal status
It is unclear in many countries whether this compound is legal or not and one should take precaution by assuming it is illegal to avoid legal issues.
See also
External links
Discussion
References