4-AcO-MET
Jump to navigation
Jump to search
4-AcO-MET

Chemical Nomenclature
Common names
4-AcO-MET, 4-Acetoxy-MET, Metacetin, O-Acetylmetocin
Substitutive name
4-Acetoxy-N-methyl-N-ethyltryptamine
Systematic name
3-(2-Ethyl(methyl)aminoethyl)-1H-indol-4-yl acetate
Class Membership
Psychoactive class
Psychedelic
Chemical class
Tryptamine
Routes of Administration

WARNING: Always start with lower doses due to differences between individual body weight, tolerance, metabolism, and personal sensitivity. See responsible use section.































DISCLAIMER: PW's dosage information is gathered from users and resources for educational purposes only. It is not a recommendation and should be verified with other sources for accuracy.

Interactions

Cannabis

Stimulants

Tramadol

Lithium

4-Acetoxy-N-methyl-N-ethyltryptamine (also known as 4-AcO-MET, Metacetin, and Azomet) is a lesser-known novel psychedelic substance of tryptamine class. Members of this group produce psilocybin-like psychedelic effects when administered. It is structurally related to psychedelic tryptamines like 4-AcO-DMT, 4-AcO-DET, and 4-AcO-MiPT.
The substance is closely related in structure to 4-HO-MET, for which it is theorized to act as a prodrug. It is occasionally found in pressed pill which are sold on the streets in northern Switzerland under the name "Acomet" or "Azomet".
Very little data exists about the pharmacological properties, metabolism, and toxicity of 4-AcO-MET, and it has little history of human usage. It is sold as a research chemical online. It is highly advised to use harm reduction practices if using this substance.
Chemistry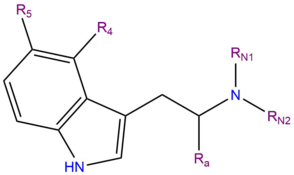 4-AcO-MET or 4-Acetoxy-N-methyl-N-ethyltryptamine is a synthetic indole alkaloid molecule of the tryptamine class. Tryptamines share a core structure comprised of a bicyclic indole heterocycle attached at R3 to an amino group via an ethyl side chain. 4-AcO-MET is substituted at R4 of its indole heterocycle with an acetoxy (AcO) functional group CH3COO−. It also contains a methyl group and an ethyl chain bound to the terminal amine RN of its tryptamine backbone (MET). 4-AcO-MET is an acetate ester analog of 4-HO-MET and the N-substituted ethyl homolog of 4-AcO-DMT.
Pharmacology
It has been suggested that the substance is quickly hydrolyzed into the free phenolic 4-HO-MET by serum esterases, but human studies concerning the metabolic fate of this drug are lacking.
4-AcO-MET's psychedelic effects are believed to come from its efficacy at the 5-HT2A receptor as a partial agonist. However, the role of these interactions and how they result in the psychedelic experience continues to remain elusive.
It is also hypothesized that this compound is quickly hydrolyzed into the free phenolic 4-HO-MET, although human studies concerning the metabolic fate of this drug are lacking. This would explain a somewhat similar experience in their subjective effects. This is similar to how 4-AcO-DMT is thought to be deacetylated to 4-HO-DMT during first pass metabolism and subsequent passes through the liver.
Subjective effects
Disclaimer: The effects listed below cite the Subjective Effect Index (SEI), an open research literature based on anecdotal user reports and the personal analyses of PsychonautWiki contributors. As a result, they should be viewed with a healthy degree of skepticism.
It is also worth noting that these effects will not necessarily occur in a predictable or reliable manner, although higher doses are more liable to induce the full spectrum of effects. Likewise, adverse effects become increasingly likely with higher doses and may include addiction, severe injury, or death ☠.
Physical effects
Sedation - 4-AcO-MET is considered by most to be relaxing, stoning and mildly sedating. Compulsive yawning often accompanies this sense of sedation. However, the sedation is often considered to be less strong than that of the related compounds psilocin and 4-AcO-DMT.
Spontaneous physical sensations - The "body high" of 4-AcO-MET can be described as a pleasurable, warm, soft and all-encompassing tingling sensation. This maintains a consistent presence that steadily rises with the onset and hits its limit once the peak has been reached.
Changes in felt bodily form - This effect is often accompanied by a sense of warmth and usually occurs around or directly after the peak of the experience. Users can feel as if they are physically part of or conjoined with other objects in a seamless continuity. This is usually reported as feeling comfortable, tranquil and mindful, though it can also manifest in the form of bodily tension.
Muscle contractions - The muscle contractions that can occur by 4-AcO-MET tend to be transient and benign feeling in nature, compared to many other tryptamines, phenethylamines and lysergamides.
Excessive yawning - This effect seems to be uniquely pronounced among psilocin and related tryptamines. It can occur to a lesser degree on LSD and very rarely on psychedelic phenethylamines like mescaline. It typically occurs in conjunction with watery eyes.
Teeth grinding - This component is considerably less intense when compared with substances like MDMA when it occurs.
Visual effects
Enhancements

Distortions

The visual geometry presented by 4-AcO-MET is similar in appearance to that of psilocin, 4-AcO-DMT and 4-HO-MiPT but with stronger "synthetic" digital undertones comparable to 2C-B. 4-AcO-MET can be comprehensively described through its variations as intricate in complexity, abstract in form, equally synthetic and organic in style, structured in organization, extremely brightly lit and multicolored in scheme, glossy in shading, sharp in edges, large in size, fast in speed, smooth in motion, angular in corners, non-immersive in depth and consistent in intensity. The visuals have a contradictory "synthetic" and "natural" feel to them which is reminiscent of both LSD and psilocybin respectively. Higher dosages are significantly more likely to result in states of level 8A visual geometry over level 8B.

Hallucinatory states

4-AcO-MET and its various other forms produce a full range of high level hallucinatory states in a fashion that is more consistent and reproducible than that of many other commonly used psychedelics. These effects generally include:

Internal hallucination (autonomous entities; settings, sceneries, and landscapes; perspective hallucinations and scenarios and plots) - This effect is very consistent in dark environments at appropriately high dosages. They can be comprehensively described through their variations as lucid in believability, interactive in style, new experiences in content, autonomous in controllability, geometry-based in style and almost exclusively of a personal, religious, spiritual, science-fiction, fantasy, surreal, nonsensical or transcendental nature in their overall theme.
Cognitive effects
The cognitive effects of 4-AcO-MET are described by much as somewhat relaxing, yet fast-paced in style with similarities to psychedelics such as LSD or 2C-B which tend to be cognitively energetic and stimulating. The drug contains a large number of typical and unique psychedelic cognitive effects. The most prominent of these typical effects generally include:
Auditory effects
Experience reports
Anecdotal reports which describe the effects of this compound within our experience index include:
Additional experience reports can be found here:
Toxicity and harm potential
The toxicity and long-term health effects of recreational 4-AcO-MET use do not seem to have been studied in any scientific context and the exact toxic dose is unknown. This is because 4-AcO-MET is a research chemical with very little history of human usage.
Anecdotal evidence suggests that there are no negative health effects attributed to simply trying the drug by itself at low to moderate doses and using it very sparingly (but nothing can be completely guaranteed). Independent research should always be done to ensure that a combination of two or more substances is safe before consumption.
It is strongly recommended that one use harm reduction practices when using this substance.
Tolerance and addiction potential
4-AcO-MET is not habit-forming and the desire to use it can actually decrease with use. It is most often self-regulating.
Tolerance to the effects of 4-AcO-MET is built almost immediately after ingestion. After that, it takes about 3 days for the tolerance to be reduced to half and 7 days to be back at baseline (in the absence of further consumption). 4-AcO-MET presents cross-tolerance with all psychedelics, meaning that after the consumption of 4-AcO-MET all psychedelics will have a reduced effect.
Dangerous interactions
Warning: Many psychoactive substances that are reasonably safe to use on their own can suddenly become dangerous and even life-threatening when combined with certain other substances. The following list provides some known dangerous interactions (although it is not guaranteed to include all of them).
Always conduct independent research (e.g. Google, DuckDuckGo, PubMed) to ensure that a combination of two or more substances is safe to consume. Some of the listed interactions have been sourced from TripSit.
Legal status
This legality section is a stub.

As such, it may contain incomplete or wrong information. You can help by expanding it.
See also
External links
Discussion
References