2-FA
Jump to navigation
Jump to search
2-FA

Chemical Nomenclature
Common names
2-FA
Substitutive name
2-Fluoroamphetamine
Systematic name
1-(2-Fluorophenyl)propan-2-amine
Class Membership
Psychoactive class
Stimulant
Chemical class
Amphetamine
Routes of Administration

WARNING: Always start with lower doses due to differences between individual body weight, tolerance, metabolism, and personal sensitivity. See responsible use section.































DISCLAIMER: PW's dosage information is gathered from users and resources for educational purposes only. It is not a recommendation and should be verified with other sources for accuracy.

Interactions

Alcohol

GHB

GBL

Opioids

Cocaine

Cannabis

Caffeine

Ketamine

Methoxetamine

Psychedelics

DXM

PCP

25x-NBOMe

2C-T-x

5-MeO-xxT

DOx

Tramadol

aMT

MAOIs

2-Fluoroamphetamine (also known as 2-FA) is a novel stimulant substance of the amphetamine class. It is a structural analog of amphetamine and is presumed to possess a similar mechanism of action, promoting the release of dopamine and norepinephrine in the brain.
2-FA is part of a series of amphetamine analogs that first appeared on the online research chemical market in the 2010s.[1][2] These compounds include 2-FMA, 3-FA, 3-FEA and 4-FA and are reported to produce a range of stimulating and euphoric effects, many of which have been used as research chemical substitutes for classical street stimulants and entactogens. Of these, 2-FA is considered to be most amphetamine-like in its subjective effects. It is commonly compared to the d-isomer of amphetamine (dexedrine).
2-FA is commonly taken orally. While capable of being taken via insufflation or vaporization, this has been reported to be highly unpleasant and noxious compared to its parent compound. Despite some users reporting efficacy as an alternative to prescription stimulants for ADHD, little is known about the potential toxicological effects that accompany its long-term use as a substitute for prescribed stimulants.
Very little data exists about the pharmacological properties, metabolism, and toxicity of 2-FA. It is highly advised to use harm reduction practices if using this substance.
Chemistry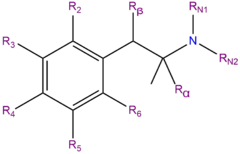 2-FA, or 2-Fluoroamphetamine, is a synthetic molecule of the amphetamine family. Molecules of the amphetamine class contain a phenethylamine core featuring a phenyl ring bound to an amino (NH2) group through an ethyl chain with an additional methyl substitution at Rα (i.e. amphetamines are alpha-methylated phenethylamines). Unlike its close analogue 2-FMA, 2-FA does not contain a methyl group bound to the terminal amine RN of the amphetamine core, which renders it structurally and functionally similar to amphetamine. 2-FA is the 2-position fluorinated analogue of amphetamine.
Pharmacology
Although 2-FA has not been formally studied on the same level as traditional amphetamines, it is safe to assume that just like other substituted amphetamines with substitutions at similar positions (with the notable exception of 4-FA), it most likely acts primarily as both a dopamine and norepinephrine releasing agent. This means it effectively increases the levels of the norepinephrine and dopamine neurotransmitters in the brain by binding to and partially blocking the transporter proteins that normally clear those monoamines from the synaptic cleft. This allows dopamine and norepinephrine to accumulate within the brain to extra-endogenous levels, resulting in stimulating, motivating and euphoric effects.
Subjective effects
In comparison to other substituted amphetamines, 2-FA is reported to be relatively free of side effects such as nausea, high blood pressure, anxiety and an uncomfortable offset ("comedown"). It is considered to be a functional and effective psychoactive substance for performing general productivity tasks in a manner that is similar to dextroamphetamine. However, at higher doses, it reportedly loses its productivity and attention-enhancing effects and begins to take on a recreational character due to the distracting euphoria and overstimulation that can result. However, it is often said that it possesses a "ceiling dose" that purportedly lowers the abuse threshold relative to methamphetamine, although this has yet to be scientifically demonstrated.
Disclaimer: The effects listed below cite the Subjective Effect Index (SEI), an open research literature based on anecdotal user reports and the personal analyses of PsychonautWiki contributors. As a result, they should be viewed with a healthy degree of skepticism.
It is also worth noting that these effects will not necessarily occur in a predictable or reliable manner, although higher doses are more liable to induce the full spectrum of effects. Likewise, adverse effects become increasingly likely with higher doses and may include addiction, severe injury, or death ☠.
Physical effects
The physical effects of 2-FA are generally subtle and smooth in a similar fashion to 2-FMA at common dosages.

Tactile effects
Cognitive effects
The cognitive effects of 2-FA appear to be very subtle at low to moderate dosages, unlike what is seen with amphetamine or 2-FMA and it is compared to caffeine in terms of its strength. Higher dosages don't produce more stimulation or euphoria but side effects such as insomnia.
After effects
The effects which occur during the offset of a stimulant experience generally feel negative and uncomfortable in comparison to the effects which occurred during its peak. This is often referred to as a "comedown" and occurs because of neurotransmitter depletion. Its effects commonly include:
Experience reports
Anecdotal reports which describe the effects of this compound within our experience index include:
There are currently no anecdotal reports which describe the effects of this compound within our experience index. Additional experience reports can be found here:
Toxicity and harm potential
The toxicity and long-term health effects of recreational 2-FA use do not seem to have been studied in any scientific context and the exact toxic dosage is unknown. This is because 2-FA has very little history of human usage. Anecdotal evidence from people who have tried 2-FA within the community suggest that there do not seem to be any negative health effects attributed to simply trying this drug at low to moderate doses by itself and using it sparingly (but nothing can be completely guaranteed). Others have commented that its d-isomer form is virtually similar to the effects of d-amphetamine, and thus far little has been shown to give reason to suspect that its toxicity is radically different (though future evidence to the contrary may prove otherwise).
It is perhaps worth noting that in the field of medicinal chemistry, the fluorine substitution is sometimes seen as desirable in central nervous system pharmaceutical agents, and is a common practice due to the corresponding increase in lipophilicity granted by the substitute.[3]
It is strongly recommended that one use harm reduction practices when using this drug.
Tolerance and addiction potential
As with other stimulants, the chronic use of 2-FA can be considered moderately addictive with a high potential for abuse and is capable of causing psychological dependence among a certain population of users. When dependence or addiction has developed, cravings and withdrawal effects may occur if a person suddenly stops their usage.
Tolerance to many of the effects of 2-FA develops with prolonged and repeated use. This results in users having to administer increasingly large doses to achieve the same effects. After that, it takes about 3 - 7 days for the tolerance to be reduced to half and 1 - 10 days to be back at baseline (in the absence of further consumption). 2-FA presents cross-tolerance with all dopaminergic stimulants, meaning that after the consumption of 2-FA all stimulants will have a reduced effect (especially including atypical stimulants one might not expect, like MDMA due to its reliance on dopamine and norepinephrine to exert its full euphoric effect).
In a analogous way tolerance to amphetamine relates to tolerance on methamphetamine, 2-FA has been observed to have a similar relationship to its more popular relative, 2-FMA.
Psychosis
Abuse of compounds within the amphetamine chemical class at high dosages for prolonged periods of time can potentially result in a stimulant psychosis that may present with a variety of symptoms (e.g., paranoia, hallucinations, or delusions).[4] A review on treatment for amphetamine, dextroamphetamine, and methamphetamine abuse-induced psychosis states that about 5–15% of users fail to recover completely.[4][5] The same review asserts that, based upon at least one trial, antipsychotic medications effectively resolve the symptoms of acute amphetamine psychosis.Cite error: Closing </ref> missing for <ref> tag[6]
Dangerous interactions
Warning: Many psychoactive substances that are reasonably safe to use on their own can suddenly become dangerous and even life-threatening when combined with certain other substances. The following list provides some known dangerous interactions (although it is not guaranteed to include all of them).
Always conduct independent research (e.g. Google, DuckDuckGo, PubMed) to ensure that a combination of two or more substances is safe to consume. Some of the listed interactions have been sourced from TripSit.
Legal status
2-FA is currently a grey area compound within all parts of the world, meaning its regulation lies in a legal grey area and that it is not known to be specifically illegal ("scheduled") within any country. However, people may still be charged for its possession under certain circumstances such as under analogue laws and with intent to sell or consume.
See also
External links
References