2C-D
Jump to navigation
Jump to search
2C-D

Chemical Nomenclature
Common names
2C-D, 2C-M, LE-25
Substitutive name
2,5-Dimethoxy-4-methylphenethylamine
Systematic name
1-(2,5-Dimethoxy-4-methylphenyl)-2-aminoethane
Class Membership
Psychoactive class
Psychedelic
Chemical class
Phenethylamine
Routes of Administration

WARNING: Always start with lower doses due to differences between individual body weight, tolerance, metabolism, and personal sensitivity. See responsible use section.































DISCLAIMER: PW's dosage information is gathered from users and resources for educational purposes only. It is not a recommendation and should be verified with other sources for accuracy.

Interactions

Cannabis

Stimulants

Tramadol

Lithium

2,5-Dimethoxy-4-methylphenethylamine (also known as 2C-M, LE-25 and more commonly as 2C-D) is a synthetic psychedelic of the phenethylamine chemical class that produces short-lived psychedelic effects when administered. Its sensory and cognitive effects profile has been described as being the most similar to that of mescaline among members of the 2C-x family, albeit with a significantly shorter duration.
The synthesis of 2C-D was first published in 1970 by a team from the Texas Research Institute of Mental Sciences.[1] Initial trials by Alexander Shulgin at sub-threshold doses in humans were carried out in 1964.[2]
Many anecdotal reports suggest that it is calmer, easier to handle and more comfortable on the body than other closely related psychedelic phenethylamines. While not especially visual or physically euphoric at common doses, it is reported to be very lucid, analytical and unimpaired in its headspace - a quality it retains even as the dose is increased.
Lower doses of 2C-D (generally 10 mg or less) have been explored for its use as a potential nootropic, albeit with mixed results.[3]
Today, 2C-D is used both recreationally and as an entheogen. It is rarely sold on the streets and almost exclusively distributed as a gray area research chemical by online vendors.
History and culture
The synthesis of 2C-D was first published in 1970 by a team from the Texas Research Institute of Mental Sciences,[1], but initial trials by Alexander Shulgin at sub-threshold doses were carried out in 1964. Further investigations at higher doses were carried out by Shulgin and his fellow researchers between 1974 and 1978.[2] The name '2C-D' derives from the chemical's structure - it is the 2-Carbon analogue of DOM.
Shulgin notably referred to 2C-D as a "pharmacological tofu," meaning it can extend or potentiate the effect of other substances without overly coloring the experience, in a manner similar to how tofu absorbs the flavors of sauces or spices it is cooked with.psychedelic in its own right.
While some use this as evidence that 2C-D is relatively uninteresting as a psychedelic on its own, others strongly disagree with this assessment and hold that 2C-D is an unusually versatile and fully-fledged
Despite showing promise as a very functional psychostimulant[4][5] with successful studies investigating the use in psychotherapy in Germany,[6] 2C-D has not found widespread use. This has been argued to be due to the previously limited diversity of substances on the market - a consumer dynamic which has changed significantly with the advent of the internet - allowing a broader freedom of choice for explorers of psychedelic phenethylamines.[7] Of these, it tends to be substantially harder to find and notably more expensive by weight.
Chemistry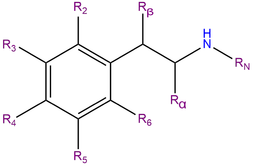 2C-D, or 2,5-dimethoxy-4-methylphenethylamine, is a substituted phenethylamine featuring a phenyl ring bound to an amino (NH2) group through an ethyl chain. 2C-D contains methoxy functional groups CH3O- attached to carbons R2 and R5 as well as a methyl group attached to carbon R4 of the phenyl ring.
2C-D belongs to the 2C family of phenethylamines which contain methoxy groups on the 2 and 5 positions of the benzene ring.
Pharmacology
2C-D's psychedelic effects are believed to come from its efficacy at the 5-HT2A receptor as a partial agonist. However, the role of these interactions and how they result in the psychedelic experience continues to remain elusive.
Subjective effects
The head space of 2C-D is described by many as being lucid, insightful and relatively normal in its thought processes even at moderate to high doses. The feeling of unaltered consciousness may be unsatisfying to users who want an intense experience because the head space is fairly normal, stable and therefore sometimes uninteresting to those who are new to hallucinogenic experiences.
Disclaimer: The effects listed below cite the Subjective Effect Index (SEI), an open research literature based on anecdotal user reports and the personal analyses of PsychonautWiki contributors. As a result, they should be viewed with a healthy degree of skepticism.
It is also worth noting that these effects will not necessarily occur in a predictable or reliable manner, although higher doses are more liable to induce the full spectrum of effects. Likewise, adverse effects become increasingly likely with higher doses and may include addiction, severe injury, or death ☠.
Physical effects
Stimulation - In terms of its effects on the physical energy levels of the user, the 2C-D experience begins with mild sedation that gives way to moderate stimulation as the experience progresses. It lacks the forceful energetic push associated with most psychedelic phenethylamines.
Spontaneous physical sensations - The "body high" of 2C-D can be described as a pleasurable, all-encompassing comfort sensation. This maintains a consistent presence that steadily rises with the onset and hits its limit once the peak has been reached.
Bodily control enhancement - Whilst at lower doses one may find that their bodily control is enhanced, at higher dosages it seems to become suppressed.
Nausea - In comparison to other phenethylamines such as 2C-E, 2C-I or 2C-B, any nausea produced by this substance tends to be very mild and dissipates quickly even with higher dosages.
Visual effects
Compared to other members of the 2C-x family like 2C-B, the visual effects of 2C-D have been noted for being understated until heavier doses are reached. After this point, a full spectrum of hallucinatory visual phenomena begin to appear.

Enhancements

Distortions

The visual geometry of 2C-D be described as more similar in appearance to that of DOM or 25D-NBOMe than that of LSD, 2C-B or 2C-I. It can be comprehensively described as structured in its organization, organic in style, intricate in complexity, large in style, slow and smooth in motion, colorful in scheme, bright in color, blurred in its edges and equally rounded and angular in its corners. It gives off a natural feel at higher dosages. While the final level of 2C-D geometry has yet to be formally confirmed, it seems more likely that it would result in states of level 8B visual geometry over level 8A.

Hallucinatory states

Internal hallucination (autonomous entities; settings, sceneries, and landscapes; perspective hallucinations and scenarios and plots) - In comparison to other psychedelics such as LSD, 2C-D is low in hallucinations embedded within visual geometry. However, when it does occur this particular effect commonly contains hallucinations with scenarios, settings, concepts and autonomous entity contact. They are more common within dark environments and can be described as internal in their manifestation, lucid in believability, and interactive in style.
External hallucination (settings, sceneries, and landscapes; perspective hallucinations and scenarios and plots) - 2C-D is capable of external hallucinations embedded within visual geometry. This particular effect commonly contains hallucinations with scenarios, settings, concepts and autonomous entity contact. They can be described as external in their manifestation, lucid in believability, and fixed in style.
Experience reports
There are currently no anecdotal reports which describe the effects of this compound within our experience index. Additional experience reports can be found here:
Toxicity and harm potential
The toxicity and long-term health effects of recreational 2C-D use do not seem to have been studied in any scientific context and the exact toxic dose is unknown. This is because 2C-D is a research chemical with very little history of human usage.
Anecdotal evidence from those within the community who have tried 2C-D suggests that there are no negative health effects attributed to simply trying the substance by itself at low to moderate doses and using it very sparingly (but nothing can be completely guaranteed). Independent research should always be done to ensure that a combination of two or more substances is safe before consumption.
It is strongly recommended that one use harm reduction practices when using this substance.
Tolerance and addiction potential
2C-D is not habit-forming and the desire to use it can actually decrease with use. It is most often self-regulating.
Tolerance to the effects of 2C-D is built almost immediately after ingestion. After that, it takes about 3 days for the tolerance to be reduced to half and 7 days to be back at baseline (in the absence of further consumption). 2C-D presents cross-tolerance with all psychedelics, meaning that after the consumption of 2C-D all psychedelics will have a reduced effect.
Dangerous interactions
Warning: Many psychoactive substances that are reasonably safe to use on their own can suddenly become dangerous and even life-threatening when combined with certain other substances. The following list provides some known dangerous interactions (although it is not guaranteed to include all of them).
Always conduct independent research (e.g. Google, DuckDuckGo, PubMed) to ensure that a combination of two or more substances is safe to consume. Some of the listed interactions have been sourced from TripSit.
Legal status
See also
External links
Forums
References
↑ 1.0 1.1 Ho, B. T.; Tansey, L. W.; Balster, R. L.; An, R.; McIsaac, W. M.; Harris, R. T. (1970). "Amphetamine analogs. II. Methylated phenethylamines". Journal of Medicinal Chemistry. 13 (1): 134–135. doi:10.1021/jm00295a034. eISSN 1520-4804. ISSN 0022-2623. OCLC 39480771. PMID 5412084.
↑ 2.0 2.1 Alexander Shulgin (1976). Pharmacology Notes I (The Shulgin Lab Books)

(PDF)

. Lafayette, CA: Erowid. p. 176.
↑ Darrell Lemaire (1990) [Updated 2015]. "Certain Exotic Transmitters as Smart Pills or Compounds that Increase the Capacity for Mental Work in Humans". Erowid. Retrieved

October 11,

2020.
↑ Zuba, D.; Sekuła, K. (2013). "Analytical characterization of three hallucinogenic N-(2-methoxy)benzyl derivatives of the 2C-series of phenethylamine drugs". Drug Testing and Analysis. 5 (8): 634–645. doi:10.1002/dta.1397. eISSN 1942-7611. ISSN 1942-7603. OCLC 231680670. PMID 22936468.
↑ King, L. A. (2014). "New phenethylamines in Europe". Drug Testing and Analysis. 6 (7–8): 808–818. doi:10.1002/dta.1570. eISSN 1942-7611. ISSN 1942-7603. OCLC 231680670. PMID 24574327.
↑ Schneider, U.; Dietrich, D.E.; Gast, U. (2004). Aspekte des Psychischen: Festschrift anlässlich des 60. Geburtstags von Hinderk M. Emrich (in German). Würzbug, Germany: Königshausen & Neumann. ISBN 3826027299. OCLC 55887990.
↑ James Martin (2014). Drugs on the Dark Net: How Cryptomarkets are Transforming the Global Trade in Illicit Drugs. Palgrave pivot. Basingstoke, UK: Palgrave Macmillan. doi:10.1057/9781137399052. ISBN 978-1-349-48566-6. OCLC 903145880.
↑ Talaie, H.; Panahandeh, R.; Fayaznouri, M. R.; Asadi, Z.; Abdollahi, M. (2009). "Dose-independent occurrence of seizure with tramadol". Journal of Medical Toxicology. 5 (2): 63–67. doi:10.1007/BF03161089. ISSN 1556-9039.
↑ "Psychoactive Substances"

(PDF)

. National Drug and Alcohol Research Centre. 2014.
↑ "Bundesrecht konsolidiert: Gesamte Rechtsvorschrift für Neue-Psychoaktive-Substanzen-Verordnung" (in German). June 26, 2019. Retrieved

January 10,

2021.
↑ "RESOLUÇÃO DA DIRETORIA COLEGIADA - RDC N° 130, DE 2 DE DEZEMBRO DE 2016" (in Portuguese). Agência Nacional de Vigilância Sanitária (ANVISA) [Brazilian Health Regulatory Agency (ANVISA)]. December 5, 2016.
↑ "Schedule III". Controlled Drugs and Substances Act (CDSA). Isomer Design. Retrieved

October 10,

2020.
↑ "关于印发《非药用类麻醉药品和精神药品列管办法》的通知" (in Chinese). 国家食品药品监督管理总局 [China Food and Drug Administration (CFDA)]. September 27, 2015. Archived from the original on September 6, 2017.
↑ "Bekendtgørelse om euforiserende stoffer" (in Danish). Civilstyrelsen [Civil Agency]. May 31, 2011. BEK Nr. 557. Retrieved

December 10,

2019.
↑ "Gesetz über den Verkehr mit Betäubungsmitteln: Anlage I" (in German). Bundesamt für Justiz [Federal Office of Justice]. Retrieved

December 10,

2019.
↑ "Achtundzwanzigste Verordnung zur Änderung betäubungsmittelrechtlicher Vorschriften"

(PDF)

. Bundesgesetzblatt Jahrgang 2014 Teil I Nr. 57 (in German). Bundesanzeiger Verlag (published December 12, 2014). December 5, 2014. p. 1999-2002. ISSN 0341-1095. OCLC 231871244.
↑ "Gesetz über den Verkehr mit Betäubungsmitteln: § 29" (in German). Bundesamt für Justiz [Federal Office of Justice]. Retrieved

December 10,

2019.
↑ Uchiyama, N.; Kawamura, M.; Kamakura, H.; Kikura-Hanajiri, R.; Goda, Y. (2008). "Analytical Data of Designated Substances (Shitei-Yakubutsu) Controlled by the Pharmaceutical Affairs Law in Japan, Part I: GC-MS and LC-MS". Yakugaku Zasshi (in Japanese). 128 (6): 971–979. doi:10.1248/yakushi.128.981. eISSN 0031-6903. ISSN 1347-5231. OCLC 909890652. PMID 18520145.
↑ "Noteikumi par Latvijā kontrolējamajām narkotiskajām vielām, psihotropajām vielām un prekursoriem" (in Latvian). VSIA Latvijas Vēstnesis. November 10, 2005. Retrieved

January 1,

2020.
↑ "Svensk författningssamling Förordning om ändring i förordningen (1999:58) om förbud mot vissa hälsofarliga varor"

(PDF)

. Läkemedelsverkets författningssamling (LVFS) (in Swedish). Läkemedelsverket [Swedish Medical Products Agency] (published February 15, 2005). February 3, 2005. ISSN 1101-5225. SFS 2005:26.
↑ "Verordnung des EDI über die Verzeichnisse der Betäubungsmittel, psychotropen Stoffe, Vorläuferstoffe und Hilfschemikalien" (in German). Bundeskanzlei [Federal Chancellery of Switzerland]. Retrieved

January 1,

2020.
↑ "Schedule 2: Part I: Class A Drugs". "Misuse of Drugs Act 1971". UK Government. Retrieved

August 20,

2020.
↑ "S. 3187 (112th): Food and Drug Administration Safety and Innovation Act". GovTrack. June 27, 2012. Retrieved

October 10,

2020.