Bufotenin
Jump to navigation
Jump to search
Bufotenin

Chemical Nomenclature
Common names
Bufotenin, 5-HO-DMT
Substitutive name
N,N-dimethylserotonin
Systematic name
3-[2-(Dimethylamino)ethyl]-1H-indol-5-ol
Class Membership
Psychoactive class
Psychedelic
Chemical class
Tryptamine
Routes of Administration

WARNING: Always start with lower doses due to differences between individual body weight, tolerance, metabolism, and personal sensitivity. See responsible use section.































DISCLAIMER: PW's dosage information is gathered from users and resources for educational purposes only. It is not a recommendation and should be verified with other sources for accuracy.

Interactions

Cannabis

Stimulants

Tramadol

Lithium

Bufotenin (5-HO-DMT, N,N-dimethylserotonin, bufotenine) is a naturally occurring substituted tryptamine alkaloid and a serotonergic psychedelic drug. Bufotenin is a structural derivative of tryptamine and serotonin. Bufotenin is found in a wide array of flora and fauna, including several species of psychoactive toads, most notably the Colorado River toad. The overall effects of bufotenin are generally described as less pleasant than those of other psychedelics such as LSD.
Chemistry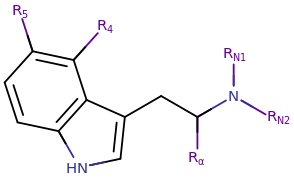 Bufotenin, 5-HO-DMT or 5-hydroxy-N,N-dimethyltryptamine is a ring-substituted indole alkaloid molecule of the tryptamine class. Tryptamines share a core structure comprised of a bicylic indole heterocycle attached at R3 to a terminal amine group via an ethyl side chain. Bufotenin is substituted at R5 of its indole heterocycle with a hydroxy (OH) functional group; it also contains two methyl groups CH3- bound to the terminal amine RN of its tryptamine backbone (DMT).
Pharmacology
In rats, subcutaneously administered bufotenin (1–100 μg/kg) distributes mainly to the lungs, heart, and blood, and to a much lesser extent, the brain (hypothalamus, brain stem, striatum, and cerebral cortex), and liver. It reaches peak concentrations at one hour and is nearly completely eliminated within 8 hours.[1] In humans, intravenous administration of bufotenin results in excretion of (70%) of injected drug in the form of 5-HIAA, an endogenous metabolite of serotonin, while roughly 4% is eliminated unmetabolized in the urine. Orally administered bufotenin undergoes extensive first-pass metabolism by the enzyme monoamine oxidase.
Bufotenin's psychedelic effects are primarily believed to come from its efficacy at the 5-HT2A receptor as a partial agonist. Specifically, this molecule shows high binding affinity for the 5-HT2A and 5-HT1A subtypes.[2] However, the role of these interactions and how they result in the psychedelic experience continues to remain elusive.
Additional mechanisms of action such as reuptake inhibition of neurotransmitters such as serotonin, noradrenaline and dopamine are also thought to be involved to an extent.[3] This can result in bufotenin becoming dangerously toxic when combined with MAOIs, RIMAs, SSRIs, stimulants or any substance which acts as a releasing agent or reuptake inhibitor of monoamine neurotransmitters.
Subjective effects
Disclaimer: The effects listed below cite the Subjective Effect Index (SEI), an open research literature based on anecdotal user reports and the personal analyses of PsychonautWiki contributors. As a result, they should be viewed with a healthy degree of skepticism.
It is also worth noting that these effects will not necessarily occur in a predictable or reliable manner, although higher doses are more liable to induce the full spectrum of effects. Likewise, adverse effects become increasingly likely with higher doses and may include addiction, severe injury, or death ☠.
Physical effects
The physical effects of Bufotenin can be broken down into several components which progressively intensify proportional to dosage. In comparison to its often relatively mild accompanying cognitive and visual effects, Bufotenin seems to have by far the most proportionally intense and overwhelming physical sensations found within the known psychedelic experience. These individual components are complex, overwhelming and seem to be equally capable of being interpreted as either extremely pleasurable and euphoric or uncomfortable and dysphoric.

Tactile enhancement - This particular component is perhaps the most overwhelming sensation within the entirety of the Bufotenin experience. It increases the intensity of tactile sensations to such an overwhelming extent that it can induce a sensation of sustained and repeatable full body orgasm within every nerve ending across the entire body to a degree not found within any other psychedelic drug. The experience of this results in the perception of having a difficulty sustaining the act of breathing. It is worth noting, however, that this is not a genuine or dangerous experience of respiratory depression and is considered to be safe.
Visual effects
The visual effects of Bufotenin can be broken down into several components which progressively intensify proportional to dosage. In comparison to its consistently overwhelming and intense accompanying cognitive and physical effects, bufotenin seems to have some of the most proportionally underwhelming visual effects found within the known psychedelic experience.

The visual geometry that is present throughout this trip does not usually occur and never extends beyond level 7 at its highest state. It is very similar to DMT although significantly smaller in size and more likely to manifest in darkness or without distractions. In terms of appearance, it can be comprehensively described through its variations as intricate in complexity, abstract in form, equally organic and digital in feel, structured in organization, brightly lit, multicoloured in scheme, glossy in shading, equal in sharp and soft edges, small in size, fast in speed, smooth in motion, equal in rounded and angular corners, immersive in depth and consistent in its intensity.
Cognitive effects
Auditory effects
Experience reports
There are currently no anecdotal reports which describe the effects of this compound within our experience index. Additional experience reports can be found here:
Natural sources
Colorado River toad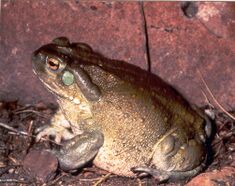 The Colorado River toad (Incilius alvarius), also known as the Sonoran Desert toad, is a psychoactive toad found in northern Mexico and the southwestern United States. Its skin and venom contain 5-MeO-DMT and bufotenin.
The toad's primary defense system are glands that produce a poison that may be potent enough to kill a grown dog.[4] These parotoid glands also produce the 5-MeO-DMT[5] and bufotenin for which the toad is known. Fresh venom can easily be collected from these glands without harm to the toad. To do this, obtain a flat glass plate or any other smooth, nonporous surface of at least 12-inches square and hold the toad in front of the plate (which is fixed in a vertical position). When the desert toad is stroked near the parotid glands in the neck region, there is a squirting out of this venom. When it is allowed to dry on a hard surface it takes on the texture of rubber cement. It contains up to 15% 5-MeO-DMT, as well as N-methyl-5-methoxytryptamine, 5-MeO-NMT and Bufotenin, which have their own entries. In this manner, the venom can be collected on the glass plate, free of dirt and liquid released when the toad is handled.
Toxicity and harm potential
The toxicity and long-term health effects of recreational bufotenin do not seem to have been studied in any scientific context and the exact toxic dose is unknown. This is because bufotenin is a research chemical with very little history of human usage. Anecdotal evidence from people within the psychonaut community who have tried bufotenin suggests that there are no negative health effects attributed to simply trying the drug by itself at low to moderate doses and using it very sparingly (but nothing can be completely guaranteed). Independent research should always be done to ensure that a combination of two or more substances is safe before consumption.
It is strongly recommended that one use harm reduction practices when using this drug.
Tolerance and addiction potential
Bufotenin is not habit-forming and the desire to use it can actually decrease with use. It is most often self-regulating.
Tolerance to the effects of bufotenin is built almost immediately after ingestion. After that, it takes about 1 hour for the tolerance to be reduced to half and 2 hours to be back at baseline (in the absence of further consumption). Bufotenin does not have a cross-tolerance with other psychedelics, meaning that after the consumption of bufotenin psychedelics will not have a reduced effect.
Dangerous Interactions
Warning: Many psychoactive substances that are reasonably safe to use on their own can suddenly become dangerous and even life-threatening when combined with certain other substances. The following list provides some known dangerous interactions (although it is not guaranteed to include all of them).
Always conduct independent research (e.g. Google, DuckDuckGo, PubMed) to ensure that a combination of two or more substances is safe to consume. Some of the listed interactions have been sourced from TripSit.
Deaths from bufotenin are rare but, as a powerful monoamine reuptake inhibitor (MRI), injury can occur when excessive doses are taken or when taken with drugs such as MAOIs, RIMAs, stimulants and any substance which act as a releasing agent or reuptake inhibitor of neurotransmitters such as serotonin and dopamine. This has resulted in well documented deaths[7][8] that are easily avoidable and could have been otherwise prevented.
Legal status
See also
External links
References