2C-x
Jump to navigation
Jump to search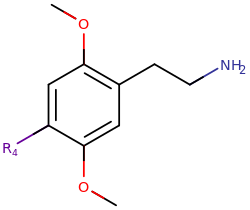 Substituted dimethoxyphenethylamines (also known as 2C-x) is the general name for the family of psychedelic phenethylamines originally studied by Alexander Shulgin. Shulgin first synthesized most of the 2C-x chemicals in the 1970s and later published his findings in his book PiHKAL. He also coined the term 2C, being an acronym for the 2 carbon atoms between the benzene ring and the amino group. The 2C-x chemicals vary in effect from being totally inactive to fully psychedelic. Some of the most popular members of this group include 2C-B, 2C-E, and 2C-I.
Chemistry
All derivatives of 2,5-dimethoxyphenethylamine have a phenethylamine backbone with two methoxy groups in positions 2 and 5 of the aromatic ring and they further contain different lipophilic substituents in position 4.
The phenethylamine backbone consists of a phenyl ring joined to an amine group through an ethyl chain. All compounds in the 2C-x series consist of this as their core structure.
List of 2C-x compounds
Note: This list does not include 2C-T-x, 25x-NBOH, 25x-NBOMe, DOx.
Classic 2C-x compounds
Other compounds, derivated from 2,5-dimethoxyphenethylamine
Toxicity and harm potential
The 2C-x chemicals, as with many other serotonergic psychedelics, should not be taken in combination with SSRIs (selective serotonin reuptake inhibitor) or tricyclic antidepressants in general to avoid serotonin syndrome, a potentially life-threatening condition in which an abundance of serotonin is built up the body, causing many physical and cognitive health problems.
Dangerous interactions
Warning: Many psychoactive substances that are reasonably safe to use on their own can suddenly become dangerous or even life-threatening when combined with certain other substances. The following lists some known dangerous interactions (although it is not guaranteed to include all of them).
Always conduct independent research (e.g. Google, DuckDuckGo, PubMed) to ensure that a combination of two or more substances is safe to consume. Some of the listed interactions have been sourced from TripSit.
Legal status
See also
External links
Literature
References