Substituted benzofurans
Jump to navigation
Jump to search
This article is a stub.

As such, it may contain incomplete or wrong information. You can help by expanding it.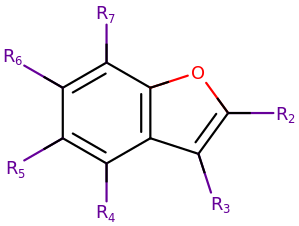 Benzofurans are chemical compounds which contain a benzofuran ring in their structure. Most of the benzofurans are research chemicals, most commonly stimulants and entactogens, and are fairly new. Benzofuran compounds are often analogues of MDxx and tryptamine compounds where a benzofuran ring has replaced the benzodioxole ring structure or indole ring respectively.
List of benzofuran compounds
| Compound | R2 | R3 | R4 | R5 | R6 | R7 | Structure |
| --- | --- | --- | --- | --- | --- | --- | --- |
| Benzofuran | H | H | H | H | H | H | |
| 2-APB | CH2CH(NH2)CH3 | H | H | H | H | H | |
| 2-MAPB | CH2CH(NHCH3)CH3 | H | H | H | H | H | |
| 2-EAPB | CH2CH(NHCH2CH3)CH3 | H | H | H | H | H | |
| 3-APB | H | CH2CH(NH2)CH3 | H | H | H | H | |
| Mebfap | H | CH2CH(NH2)CH3 | H | OCH3 | H | H | |
| 5-MeO-BFE | H | CH2CH2N(CH3)2 | H | OCH3 | H | H | |
| 5-MeO-DiBF | H | CH2CH2N(CH(CH3)2)2 | H | OCH3 | H | H | |
| 4-APB | H | H | CH2CH(NH2)CH3 | H | H | H | |
| DOB-5-hemifly | H2 | H2 | CH2CH(NH2)CH3 | OCH3 | H | Br | |
| 5-APB | H | H | H | CH2CH(NH2)CH3 | H | H | |
| 5-APDB | H2 | H2 | H | CH2CH(NH2)CH3 | H | H | |
| 5-MAPB | H | H | H | CH2CH(NHCH3)CH3 | H | H | |
| 5-MAPDB | H2 | H2 | H | CH2CH(NHCH3)CH3 | H | H | |
| βk-5-MAPB | H | H | H | COCH(NHCH3)CH3 | H | H | |
| 5-EAPB | H | H | H | CH2CH(NHCH2CH3)CH3 | H | H | |
| 5-EAPDB | H2 | H2 | H | CH2CH(NHCH2CH3)CH3 | H | H | |
| 5-MBPB | H | H | H | CH2CH(NHCH3)CH2CH3 | H | H | |
| 5-DBFPV | H2 | H2 | H | COCH(NC4H8)CH2CH2CH3 | H | H | |
| 6-MeO-5-APDB | H2 | H2 | H | CH2CH(NH2)CH3 | OCH3 | H | |
| 6-APB | H | H | H | H | CH2CH(NH2)CH3 | H | |
| 6-APDB | H2 | H2 | H | H | CH2CH(NH2)CH3 | H | |
| 6-MAPB | H | H | H | H | CH2CH(NHCH3)CH3 | H | |
| 6-MAPDB | H2 | H2 | H | H | CH2CH(NHCH3)CH3 | H | |
| βk-6-MAPB | H | H | H | H | COCH(NHCH3)CH3 | H | |
| 6-EAPB | H | H | H | H | CH2CH(NHCH2CH3)CH3 | H | |
| 6-EAPDB | H2 | H2 | H | H | CH2CH(NHCH2CH3)CH3 | H | |
| 6-MBPB | H | H | H | H | CH2CH(NHCH3)CH2CH3 | H | |
| F-2 | HCH3 | H2 | H | OCH3 | CH2CH(NH2)CH3 | H | |
| F-22 | (CH3)2 | H2 | H | OCH3 | CH2CH(NH2)CH3 | H | |
| 7-APB | H | H | H | H | H | CH2CH(NH2)CH3 | |
| DOI-2-hemifly | H2 | H2 | I | OCH3 | H | CH2CH(NH2)CH3 | |
| Bromo-DragonFLY | H | H | Br | O- | CH=CH- | CH2CH(NH2)CH3 | |
| 2C-B-FLY | H2 | H2 | Br | OCH2- | CH2- | CH2CH2NH2 | |
| Tasimelteon | H2 | H2 | C3H4CH2NHCOCH2CH3 | H | H | H | |
| Ramelteon | H2 | H2 | CH(CH2-)CH2CH2NHCOCH2CH3 | CH2- | H | H | |
| Vilazodone | CONH2 | H | H | C4H8N2(CH2)4C9H5N2 | H | H | |
See also
External links