Talk:Withania somnifera (botany)
Jump to navigation
Jump to search
Withania somnifera

An ashwagandha plant found in nature.

Taxonomical nomenclature
Kingdom
Plantae
Unranked
Angiosperms
Unranked
Eudicots
Unranked
Asterids
Order
Solanales
Family
Solanaceae
Genus
Withania
Species
W. somnifera
Common nomenclature
Common names
Ashwagandha, Indian ginseng, Poison gooseberry and Winter cherry
Constituents
Active constituents
Tropine, withanolides, cuscohygrine
Withania somnifera (Commonly known as Ashwagandha, Indian ginseng, Poison gooseberry and Winter cherry) is an adaptogenic[1] plant in the Solanaceae or Nightshade family that is used as a herbal treatment in Ayurvedic medicine. Ashwagandha contains flavonoids such as Withanolide A and Withaferin-A, which are believed to be responsible for Ashwagandha's psychoactive properties.
Ashwagandha has been well-researched for a multitude of health benefits, including anxiety reduction[2], stress reduction[3], physical performance enhancing[4][5], depression relief[6], and fatigue relief[7].
Chemistry
Withanolides are present in all plants in the Solanaceae family of plants[8]There has been reported to be high variability in the amount of active withanolides in common nutritional supplements, which may be due to lack of standardization of root powder.
, of which Withania Somnifera(Ashwagandha) is the highest in concentrations. These Withanolides are believed to be the prime component of Ashwagandha's psychoactive profile.
Pharmacology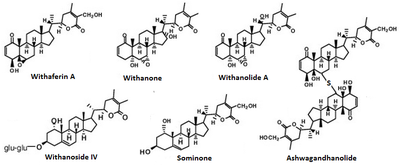 Theanine is structurally similar to the excitatory neurotransmitter glutamate, and in accordance, binds to glutamate receptors, though with much lower affinity in comparison. Specifically, it binds to ionotropic glutamate receptors including the AMPA and kainate receptors and, to a lesser extent, the NMDA receptor.[9][10][11][12] It acts as an antagonist of the former two sites[13] and as an agonist of the latter site.[14] In addition, it inhibits glutamine transporters and glutamate transporters, and thus acts as reuptake inhibitor of glutamine and glutamate.[15][16][17]
Theanine increases dopamine, GABA, and glycine levels in various areas of the brain.[18][19][20][21] It also effects serotonin in a manner which is still a matter of debate in the scientific community, with separate studies showing increases and decreases in brain serotonin levels using similar experimental protocols.[22][23]
These various changes in neurotransmitter levels contribute to the calming and nootropic properties of theanine.
Subjective effects
The effects listed below are based upon the subjective effect index and personal experiences of PsychonautWiki contributors. The listed effects will rarely (if ever) occur all at once, but heavier dosages will increase the chances and are more likely to induce a full range of effects.
Physical effects
Cognitive effects
Anxiety suppression - Ashwagandha produces anxiolytic effects which are comparable to a mild dose of a benzodiazepine but without the accompanying disinhibition.
Mindfulness - Ashwagandha induces distinctive states of mindfulness more consistently than perhaps any other known psychoactive compound.
Experience reports
There are currently no anecdotal reports which describe the effects of this compound within our experience index. Additional experience reports can be found here:
Toxicity and harm potential
Theanine is non-addictive, is not known to cause brain damage, and has an extremely low toxicity relative to dose. Similar to many other nootropics drugs, there are relatively few physical side effects associated with acute theanine exposure. Various studies have shown that in reasonable doses in a careful context, it presents no negative cognitive, psychiatric or toxic physical consequences of any sort.
It is strongly recommended that one use harm reduction practices when using this drug.
Tolerance and addiction potential
Theanine is not habit-forming and the desire to use it can actually decrease with use. It is most often self-regulating.
Tolerance to the effects of theanine are built after prolonged and repeated usage. After that, it takes about 7 days for the tolerance to be reduced to half and 14 days to be back at baseline (in the absence of further consumption). Theanine presents cross-tolerance with no other known compounds, meaning that after the consumption of theanine all other psychoactive compounds will not have a reduced effect.
Legal issues
This legality section is a stub.

As such, it may contain incomplete or wrong information. You can help by expanding it.
Theanine is unscheduled across the world and is not known to be specifically illegal within any country.
United Kingdom - It is illegal to produce, supply, or import this drug under the Psychoactive Substance Act, which came into effect on May 26th, 2016.[24]
See also
External links
References