Talk:Substituted pyrrolidinophenones
Jump to navigation
Jump to search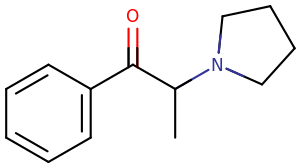 Substituted pyrrolidinophenones (or simply pyrrolidinophenones) are a chemical class of psychoactive compounds that are based on the structure of alpha-pyrrolidinopropiophenone (α-PPP). Pyrrolidinophenones have stimulant effects and are presumed to be more potent and addictive than others stimulants of class amphetamine and cathinone.[1]
Chemistry
Pyrrolidinophenones are a chemical class releated to cathinones, and they differs from other cathinones in that they contains a pyrrolidine ring in amino group.
Pharmacology
Presence of a pyrrolidine ring in any cathinone-like compound confers potent uptake blocking properties at DAT (dopamine transporter) and NET (norepinephrine transporter). Thus, pyrrolidinophenones are mechanistically distinct from ring-substituted cathinones, such as mephedrone and methylone, which act as non-selective substrates for monoamine transporters and trigger transmitter release. Importantly, MDPV and α-PVP are similar in potency and transporter selectivity, indicating that the presence of the 3,4-methylenedioxy substituent in MDPV does not exert much influence on the profile of transporter activity. By contrast, alkyl chain length extending from the α-carbon is a critical structural feature, with shorter chain length (i.e., α-PPP, methyl) yielding less potent transporter-blocking properties when compared to longer chain length (i.e., α-PVP, propyl).[1]
List of substituted pyrrolidinophenones
| Compound | R2 | R3 | R4 | R5 | Rα | Structure |
| --- | --- | --- | --- | --- | --- | --- |
| α-PPP | H | H | H | H | CH3 | |
| α-PVP | H | H | H | H | CH2CH2CH3 | |
| 5-DBFPV | H | CH2- | OCH2- | H | CH2CH2CH3 | |
| MDPV | H | OCH2- | O- | H | CH2CH2CH3 | |
| α-PHP | H | H | H | H | CH2CH2CH2CH3 | |
| MDPHP | H | OCH2- | O- | H | CH2CH2CH2CH3 | |
| α-PHpP | H | H | H | H | CH2CH2CH2CH2CH3 | |
See also
External links
References
↑ 1.0 1.1 Marusich, J. A., Antonazzo, K. R., Wiley, J. L., Blough, B. E., Partilla, J. S., & Baumann, M. H. (2014). Pharmacology of novel synthetic stimulants structurally related to the "bath salts" constituent 3, 4-methylenedioxypyrovalerone (MDPV). Neuropharmacology, 87, 206-213. https://doi.org/10.1016/j.neuropharm.2014.02.016