Talk:Crack cocaine synthesis
Jump to navigation
Jump to search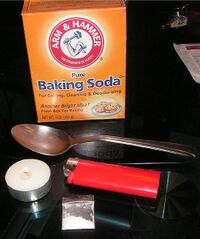 Sodium bicarbonate (NaHCO3, common baking soda) is a base used in the preparation of crack, although other weak bases may substitute for it.[1][2] The net reaction when using sodium bicarbonate is
Coc-H+Cl− + NaHCO3 → Coc + H2O + CO2 + NaCl
With ammonium bicarbonate:
Coc-H+Cl− + NH4HCO3 → Coc + NH4Cl (ammonium chloride) + CO2 + H2O
With ammonium carbonate:
2(Coc-H+Cl−) + (NH4)2CO3 → 2 Coc + 2 NH4Cl + CO2 + H2O
Crack cocaine is frequently purchased already in rock form,[3] although it is not uncommon for some users to "wash up" or "cook" powder cocaine into crack themselves. This process is frequently done with baking soda (sodium bicarbonate), water, and a spoon. Once mixed and heated, the bicarbonate reacts with the hydrochloride of the powder cocaine, forming free base cocaine and carbonic acid (H2CO3) in a reversible acid-base reaction. The heating accelerates the degradation of carbonic acid into carbon dioxide (CO2) and water. Loss of CO2 prevents the reaction from reversing back to cocaine hydrochloride. Free base cocaine separates as an oily layer, floating on the top of the now leftover aqueous phase. It is at this point that the oil is picked up rapidly, usually with a pin or long thin object. This pulls the oil up and spins it, allowing air to set and dry the oil, and allows the maker to roll the oil into the rock-like shape.
References
↑ Treadwell, SD; Robinson, TG (June 2007). "Cocaine use and stroke". Postgraduate Medical Journal (Review). 83 (980): 389–94. doi:10.1136/pgmj.2006.055970. PMC 2600058 . PMID 17551070.
↑ "Cocaine Abuse & Addiction". www1.nyc.gov. City of New York.
↑ Cite error: Invalid <ref> tag; no text was provided for refs named AMCcrac